Saturday June 4th, 2022
15 cyclists gathered at the Southwark Gateway Needle (London Bridge) at 10.30 for a ride to the Serpentine led by Jamie. Over the bridge and an early coffee stop at Queen St. On along Cycleway 3 to Northumberland Avenue where we were met with a police barrier. Apparently there was a suspected bomb in Trafalgar Square. Diverted into the maze of streets to the west and evetually ended up in Charing Cross Rd next to Leicester Square. Decided to head toward Picadilly, but due to pedestrian numbers ended up walking. Eventually remounted in Picadilly but were soon stopped by another barrier as we approached Hyde park Corner. Another diversion with a bit of walking to Park Lane just north of Hyde Park Corner. No crossing here and plenty traffic on Park Lane. Made it across without losing any riders and entered Hyde Park. Gentle ride along the north shore of the Serpentine to a spot on the grass above the boat hire station (not in action on a BankHoliday- odd). Some cyclists did a circuit of Hyde Park and found all Cycleway 3 was open (it is closed closer to Parliament Square). By this time the sun was out and it was getting decently warm. Sandwiches and other foods appeared, even strawberries (it is the season, after all). Four more Healthy Riders turned up sans bikes, but avec chien (Joe, very well-behaved although we were warned to watch out for any loose sandwiches). People began slipping off home about 2-ish. No organisation for the return – just do our own thing. Very pleasant outing. Many thanks to Jamie for organising and leading.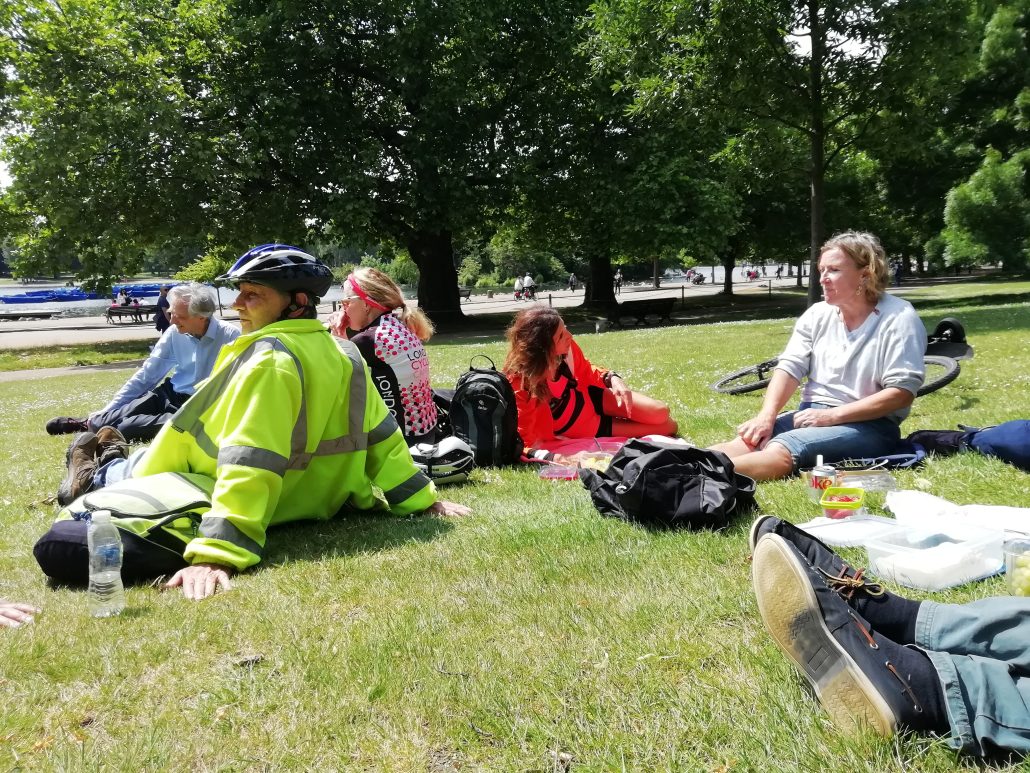 Back to Ride Report 2022 Index
Back to Healthy Rides Home page.