12th March 2022
Ride Report from Bruce Lynn (Ride Leader)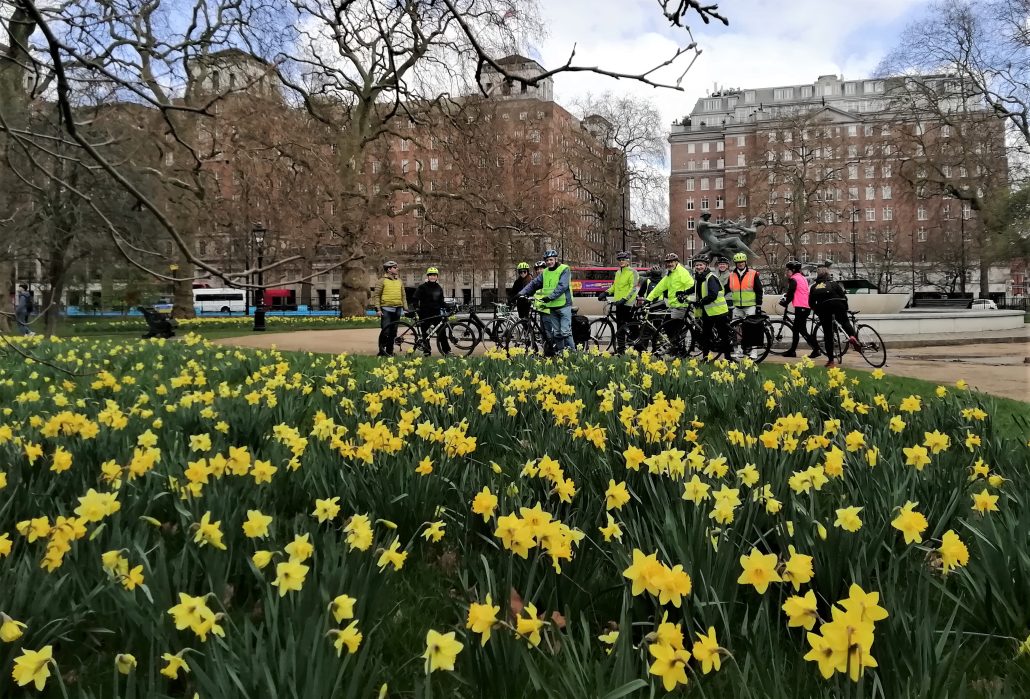 15 riders at the Burgess Park Café on a sunny morning. Not warm but more springlike than wintery (at last). Down Portland St (Cycleway 17), round the northeast bypass of the Elephant and bit of Cycleway 10 to Blackfriars Rd. On to Blackfriars Bridge on the segregated Cycleway 6. Stopped on the bridge for a time check – right on time. Continued on CW6 to Tavistock Pl, then continued on LCN 6 across Euston Rd . Stopped for a peek at the British Library, all red brick straight lines, and at the adjacent Crick Institute, all glass and steel and curves. Rejoined CW6 at Royal College St but soon left it to turn west towards our first park. Negotiated the complex junctions at Parkway and safely entered Regents Park. Stopped at the Broad Walk Café still pretty much on time. Café service was rather slow and the loos were closed. Needed to nip 300m along Broad Walk to the facilities on Chester Rd. So ended up departing slightly late for the ride round the Inner Circle and out through York Gate.
Crossed Marylebone Rd walking the pedestrian crossing and continued walking along the front of St Marylebone Parish Church which was undergoing some work. Meant no Saturday Fair in the churchyard which allowed easier access to Marylebone High St. Quiet streets to Stanhope Place entrance to Hyde Park. Shortened the Hyde Park section by going down by the Broadwalk, parallel to Park Lane instead of North Carriage Drive and the Serpentine. Stopped briefly for a spring photo beside some daffodils. Crossed Hyde Park Corned to Constitution Hill. As often is the case, the cycle path in Green Park was full of pedestrians, but Constitution Hill was clear of traffic, so we used the road to run down to Buck House. The Mall was nice, no traffic. Maybe due to work going on at Admiralty Arch. Next round Horse Guards, across Parliament Squ. and on to Westminster Bridge. The narrow cycle lane across Westminster Bridge was full of tourists taking photos, but we made it through without major incident. Turned off on to the relative quiet of Belvedere Pl and Upper Ground. Took a moment to divert to admire the Thames in the sunshine and take a quick photo. Then back towards Burgess Park via Cycleway 6 and the southwest Elephant bypass. Brief stop at Wansey St where there is an interesting juxtaposition of styles of building, then along Portland St and back to Burgess park.
Starting to cloud up, but definitely still spring. Many thanks to Juliet for back marking.
Route at https://goo.gl/ZjwqlF /; this map has several versions of the route, but you should be able to work out this year's route.
Back to Ride Report 2022 Index
Back to Healthy Rides Home page.