Seven Finest Views
Burgess Park, Clapham Common, Battersea Loop
Seven Finest Views
We set off with 19 riders this morning and were not only blessed with clement weather but also two Back Markers and four Marshals who kindly took turns managing the snake's progress along the undulating 7 Finest Views Route. Thankfully none of them managed to get lost unlike last week when Jean and I went AWOL. The riders took the route in their stride even the dreaded Morden Hill climb up to Blackheath. We were greeted on our way into Greenwich Park by scores of Police Officers and rows of Police vans. They told us that that they were doing random checks on vehicles – luckily not bicyclists. Arrived at our RV (rendezvous) for coffee and were delighted to see Simon Kenward who had ridden over to see us and was in good form. During the usual coffee stop banter it transpired that Mitchell White (seated in photograph) had joined us today from his native New York. The crew felt it essential to capture a group photo of our first New York SC Healthy Rides member as he had travelled so far for the occasion. With a few riders peeling off enroute to Peckham the remainder of us arrived back at 1.30pm.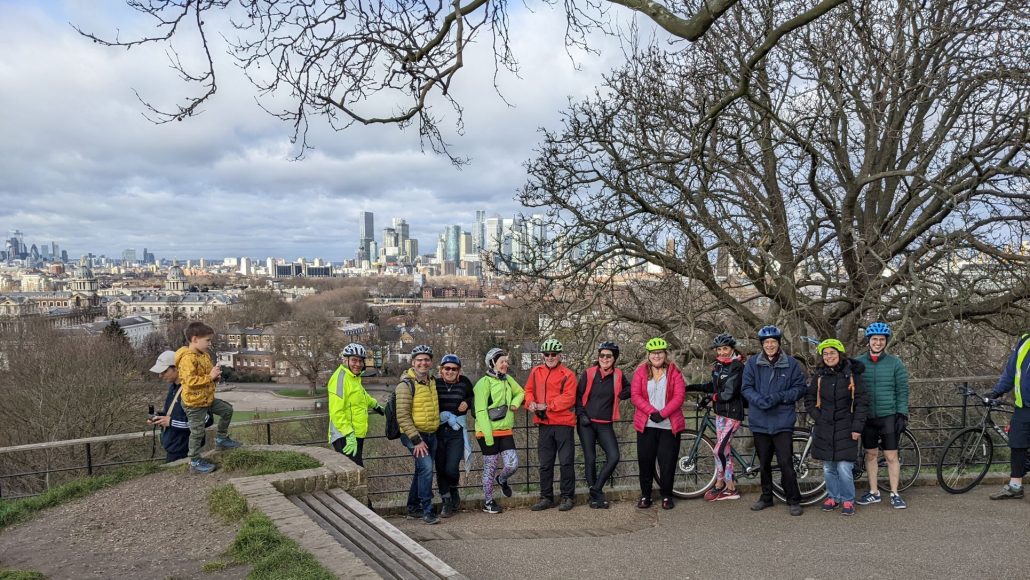 Burgess Park, Clapham Common, Battersea Loop
Nine riders gathered at the Burgess Park Café on a dry, breezy, but not too cold morning. Jane led us across the park and along quiet streets (mostly) through Camberwell, Stockwell and Clapham to Clapham Common. Clapham Common was very busy with all shapes and sizes of people and dogs wandering about, plus lots of football matches and exercise classes. Meant slow progress to the bandstand, site of the now notorious Sarah Everard demonstration that as broken up by the police last March. Now turned north along Rectory Grove and Larkhall Rise and eventually Thessaly Road. A nice surprise here as there was a new, good quality, cycle track to a crossing of Nine Elms Rd to the new Northern Line station (Battersea Power Station). We turned left along Nine Elms Rd, past the Dogs Home and via he world's slowest roundabout to Battersea Park. Coffee break at the hut on Carriage Drive north (Pier Point Café). Very fast service and excellent cakes – but no seating. After suitable refreshment started the return by following the path into the new developments around the Power Station. Have never seen the riverside here so busy. Cycled out via Circus Rd West and Kirtling St to Nine Elms Rd, then along this road to Vauxhall Bridge. From Vauxhall down Kennington Lane to Montford Place, location of the Beefeater Gin distillery. Ride Leader Jane recommended the excellent tour and tastings. Short run from there past Kennington Park to Burgess Park. Back on time at 12.30 after 11.5 miles of enjoyable and interesting cycling. Courtesy of Jaslyn, below is her Strava GPX track of the ride.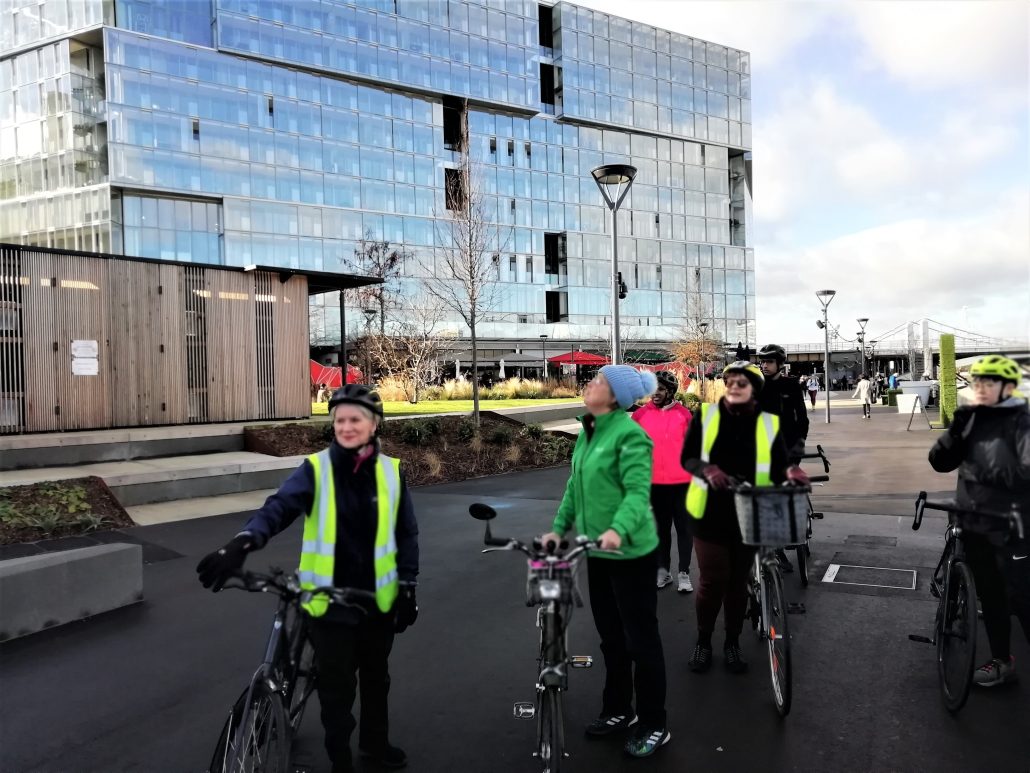 Back to Ride Report 2022 Index
Back to Healthy Rides Home page.