London Bridge to Parliament Hill Fields
Dulwich to Crystal Palace Park
London Bridge to Parliament Hill Fields
Beautiful sunny morning attracted 15 riders to this outing led by Bruce. First leg took us through the Bank junction, past St Pauls and just before Holborn viaduct down to join Cycleway 6. Followed this to Kings Cross. That is most of us did. Our (not so) trusty back markers managed to lose us through the maze of roads that C6 takes through Bloomsbury. They caught up with us at Kings Cross. Magic wigwam had been constructed at Granary Square. Requisite photo taken of group inside "energy" field. Next St Pancras Cemetery. Very old and with some famous graves (J Christian Bach, Sir John Soanes, Mary Wolstencroft). Picked up C6 again up to Camden Rd where we again briefly lost our back markers. A stern talking to was delivered and we continued, with no further incident, through Kentish Town to a very busy Parliament Hill Fields. Coffee break and/or climb Parliament Hill for excellent views. 
Return route meandered through quiet streets to Chalk Farm and then over the railway to Regents Park Rd. Several of the restaurants have erected small tents over their outside seating and these made a jolly sight in the sunshine. We were soon at Primrose Hill. Again very busy, so parked the bikes and walked up to the viewpoint. Next over the Regents Canal and into Regents Park next to the Zoo. Another very busy space, but the wide path allowed us to cycle carefully to Chester Road where we left the park. On roads for a stretch, but traffic light. We made good time past the Post Office Tower, UCL and the British Museum and into Lincolns Inn fields. Here we passed the Sir John Soanes Museum, having seem his tomb on the outward leg of the ride. Final stretch to Fleet St , with Inner Temple closed at weekends took streets to the embankment and Cycleway 3. This provided a quick route back to London Bridge via the Monument.
This is certainly a ride with lots to see!  13 miles and route map at https://www.google.com/maps/d/u/0/edit?mid=1S4E6QQQM4Dp18KOJMQexVb3yDDMXob7C&usp=sharing.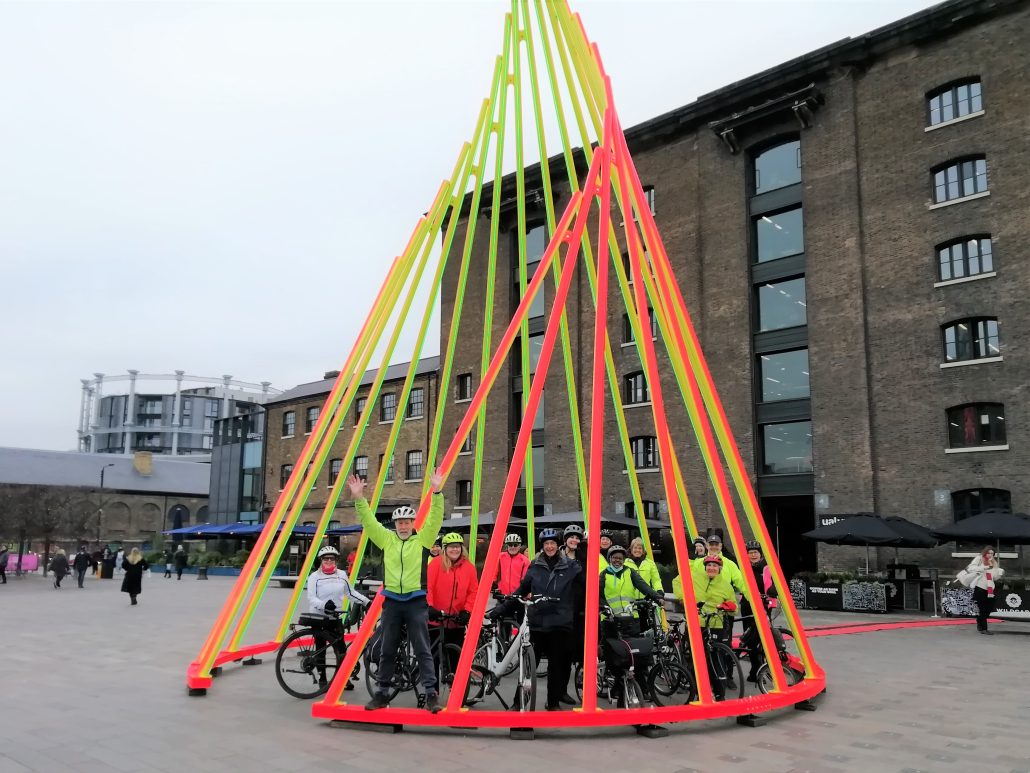 Dulwich to Crystal Palace Park
9 riders took the relatively flat route via Camberwell New Cemetery to Ladywell Fields. There picked up the Waterlink Way (Nat Route 21) to Lennard Rd. Then back on roads through Penge to Crystal Palace Park. Decided not to stop for coffee. Through the park past the dinosaurs, up to and along the terraces before reaching the top end. Final stretch of lovely downhill back to Dulwich Park – always a great way to end a ride! Thanks to Amanda for leading. Approx route map at https://goo.gl/rfUzwn. GPX track of actual ride (courtesy Simon S.) below
Back to Ride Report 2022 Index
Back to Healthy Rides Home page.