Lambeth's Small Open Spaces
Canada Water to St James Park
Lambeth's Small Open Spaces
Even though I say it myself, this ride really turned out well! Small parks often have a charm of their own. And we are lucky to have lots of them in London. Most have some individual feature of interest. Some have remarkable activities embedded. This flat, 13 mile route, includes 12 small parks and also visits 3 larger parks, all in or very close to Lambeth. Add in an award-winning bus station, an award-winning water tower and a gin distillery. Then lay on a nice sunny day and good company and get ready for a really magical ride.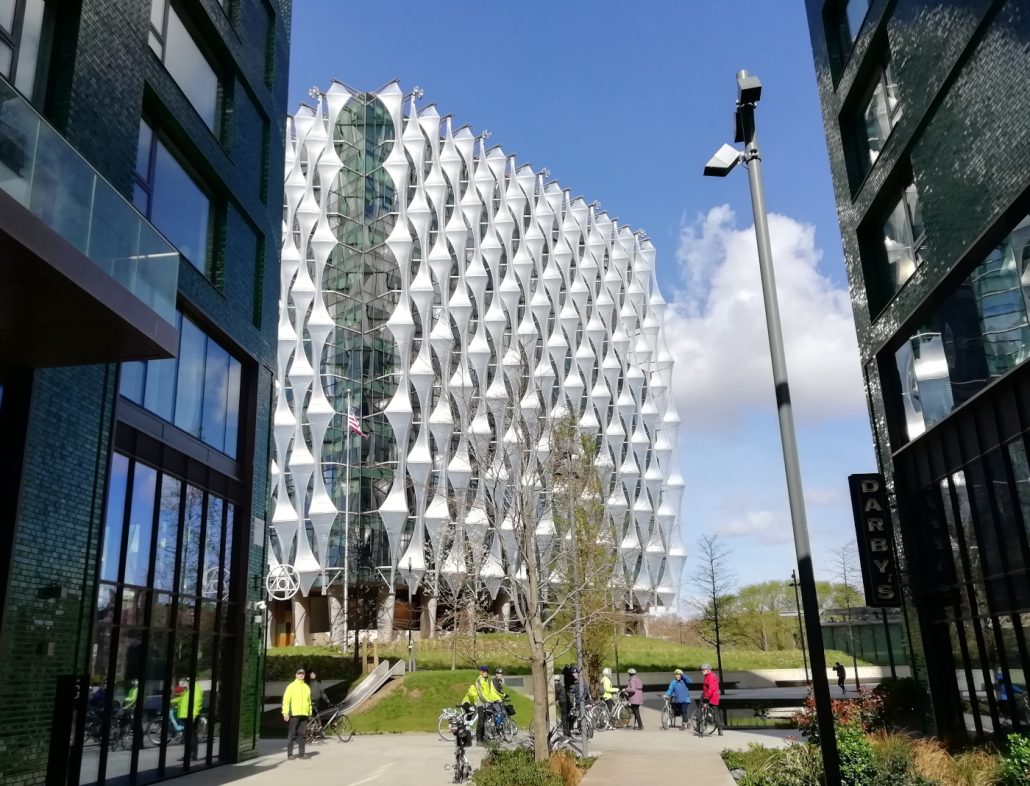 12 riders led by me (Bruce) set off at the usual 10am from Waterloo Station along York Rd to Archbishops Park. Quiet at this hour we moved on to Old Paradise Gardens. What a little gem. Crammed between large buildings a tiny square with some nice trees and flower beds. Turned out Jane, who volunteers with the Garden Museum in nearby Lambeth Palace, had helped with the gardening here! Continued through Pedlars Park, Vauxhall Pleasure Gardens and Vauxhall Park, then diverting to the US Embassy at 9 Elms. The Sky Pool was shimmering in the sunshine – but no swimmers (despite the sunshine it was quite cold). From the Embassy decided to skip the Power station and go directly to thessaly Rd and along the new segregated cycle lane to Wamsworth Rd. Crossed this to Larkhall Park and then, passing Stockwell Bus Garage, rode to Slade Gardens, the various bits of Max Roach Park and Wyck Gardens, Brixton, home of the Ebony Horse Club, a Community Riding Centre. A child was riding in one enclosure with others waiting for a turn.
Heading back we crossed Elam Open space and stopped in Myatts Fields For a well-desrved coffee. Final stretch took us to Eythorne Park (always check out the Tangerine Tree) and Kennington Park, then a diversion to the Beefeater Gin Distillery (sadly no time for a tour) and the Cinema Museum and its neighbour the house in a water tower. Ended by going briefly into Southwark for Geraldine Mary Harmsworth Park, home of the Imperial War Museum, and stopped at Waterloo Millenium Green, close to the station. Route showing all the parks at https://www.google.com/maps/d/u/0/edit?mid=1R6fTBvDP_CWqVtzEhbo-kHtOydWA1ne2&usp=sharing
Canada Water to St James Park
11 riders set out from Canada Water and one joined at London Bridge. Headed off for a bit of sightseeing. Crossed London Bridge to Cycleway 3, then past Big Ben into Parliament Square and on to Buckingham Palace. For return crossed Westminster Bridge, then Lower Marsh and Cycleway 14 pretty much all the way back. By popular demand stopped for coffee at Bartons in Dockhead, just off Jamaica Rd. Always an enjoyable route. Many thanks to Simon K who led the ride despite being still in recovery from emergency dentistry the previous day.
Back to Ride Report 2022 Index
Back to Healthy Rides Home page.