Dulwich to the Wandle
Tour de Rotherhithe
Dulwich to the Wandle
14 riders (including one from Chingford!) in Dulwich Park at the unusually early time of 9.30 for a ride to a more southern stretch of the Wandle than we had visited previously. From Dulwich the first part of the ride was on quietish main roads and then continued via West Norwood across to Streatham Common – with a few uphill bits on the way. After that – fairly flat over to Mitcham Common – then off road path almost to the tramline at Beddington. Next along a nice off-road path towards Hackbridge and a short amount on the road before we picked up the Wandle Trail and followed this for 3 miles to Morden Hall. Coffee stop at National Trust Café (usual excellent cakes) then made our way another 1½ miles of Wandle Trail to Merton Abbey Mills. Returned on CS7 from Colliers Wood to Tooting, Balham and Clapham Common, then mostly quiet streets to Brockwell Park & Dulwich Park. Beautiful day on great ride led by Jean and John.
Tour de Rotherhithe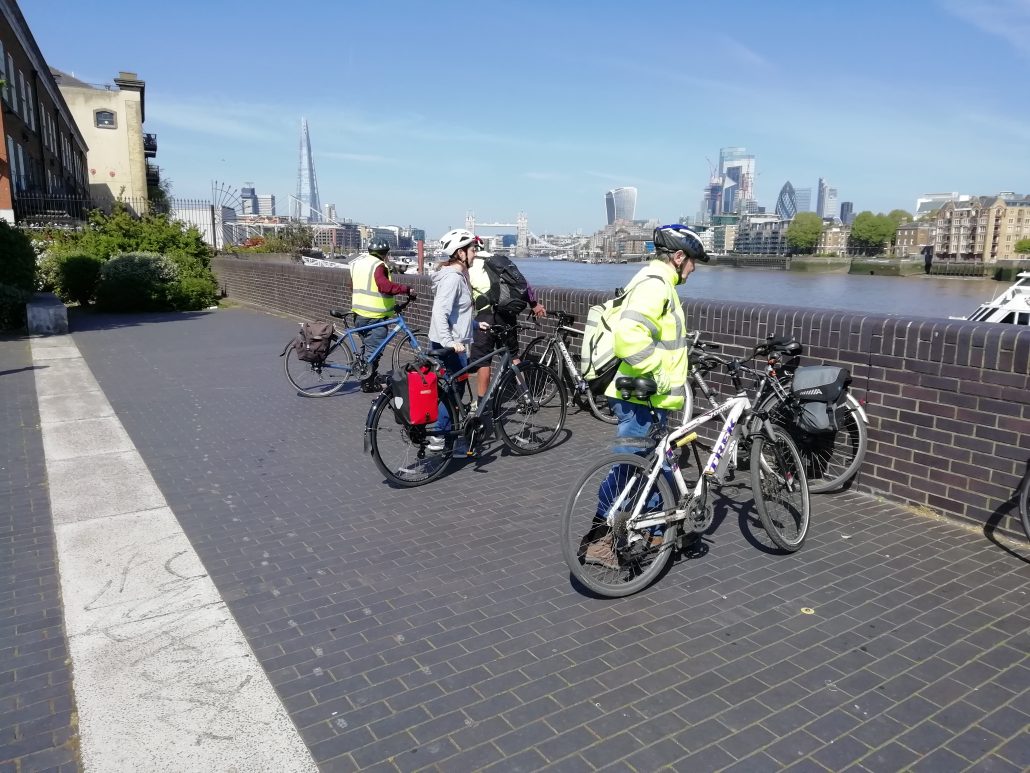 Just 6 riders turned up in Deal Porter Square for a short ride round Rotherhithe. The area was dominated by Surrey Docks until the 1970s. In the 1980s most docks were filled in and area ws redeveloped for housing and associated support services. The plan included a large park (Russia Woodlands) and many pedestrian/cycle paths.
The group set off in beautiful sunshine to Southwark Park, riding through this to King Stairs Gardens and the Thames. Stopped briefly for a photo then followed the Thames path all the way to Deptford Historic Riverside, passing the departure point of the Mayflower, the first underwater tunnel anywhere (by Brunel) and the Surrey Docks Farm. At the Farm bumped into Harry Clark with a group from Bexley. Harry started leading with us several years back before starting HEalthy Rides in his home area. On the stretch including Durands Wharf we, as usual, cursed the extremely narrow parallel barriers (see photo). Turned at the old Admiralty buildings onthe Deptford waterfront (not really Rotherhithe any more, but too interesting to miss). Headed back via the Surrey Canal Linear Park to South Dock, Greenland Dock and Russia Woodland. Had to skip Stave Hill as running short of time. Always a very interesting ride. Annotated route map at https://goo.gl/5pFd9b.
Back to Ride Report 2022 Index
Back to Healthy Rides Home page.