London Bridge to Olympic Park
Canada Water – Greenwich – London Bridge Loop
London Bridge to Olympic Park
Report from Ride Leader Juliet: Great ride today 14 of us set off from London Bridge – nearly 15 when a man in Lycra mistook us for his cycling group! We reached the Olympic velodrome and parked our bikes just inside, and we were thrilled by the vista of the stunning Hopkin designed facility, seeing the cyclists in action close up, as well coffee from the welcoming Cafe 42. The sun shone bright for us on the return. The waterways sparkled and the route kept surprising us on each turn which included a barge party near Hackney Wick which sadly we just rode by ……
Video of descending the Zigzag path at the start of the Wapping canals. https://www.facebook.com/619577065/videos/5252267144806406/
Canada Water – Greenwich – London Bridge Loop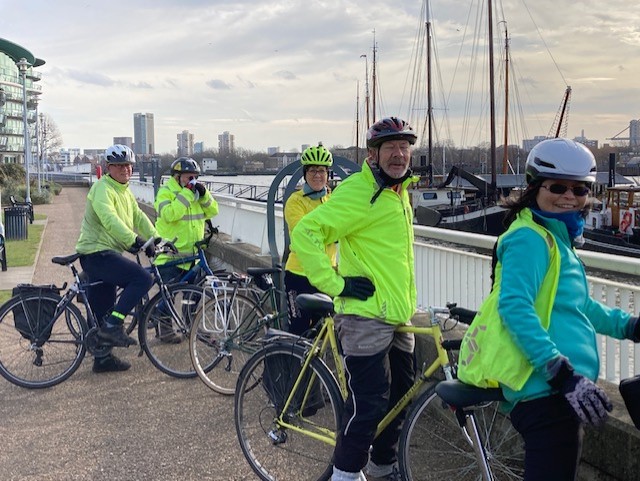 Notes from Ride Leader Simon K. Six of us left Canada Water in the sun, but with a cold wind. Had to make a short detour approaching Greenwich with the footbridge across Deptford Creek closed. We lost one rider in Greenwich who decided enough was enough, but gained another rider. DLR crowded, standing room only, so we spread ourselves along the train. With Tower Bridge in the background, but a nasty wind, it was decided to cross London Bridge. Four of us had a coffee sitting in the sun, out of the wind, at a cafe in Dockhead. After our coffee we continued on our separate ways. All in all a very pleasant ride taking in riverside, Shadwell Basin and canal with few roads. Many thanks to David for back marking.
Back to Ride Report 2022 Index
Back to Healthy Rides Home page.