SE London Sights – Burgess Park to Cutty Sark
Dulwich to Kensington Palace
SE London Sights – Burgess Park to Cutty Sark
10am to 12.30. Start/finish Fuorvito Café (ex Park Life Café), Burgess Park.
Simon's report: Eight riders set off from Burgess Park with Simon S leading, heading for Greenwich, mostly on the pleasant cycle route C10. Past the delights of Millwall FC's stadium and South East London Combined Heat and Power (SELCHP) plant. Through Deptford and past the imposing St Paul's Church. Stopped for photos and refreshment at the Cutty Sark – now in brilliant sunshine. Back along the Thames Path stopping at Sayes Court Park to admire the Tsar's mulberry tree. Continued into Russia Dock Woodland and Stave Hill Ecology Park in Rotherhithe. Photo opportunity from the top of (man-made) Stave Hill. Back past the delightful Greenland Dock and along route 425 to Burgess Park again. A nice couple of hours on easy, flat routes. 
Route map: https://www.google.com/maps/d/u/0/edit?mid=1HhD8WldGdPFxAVTsiInWeS3QU1wpJZu8&usp=sharing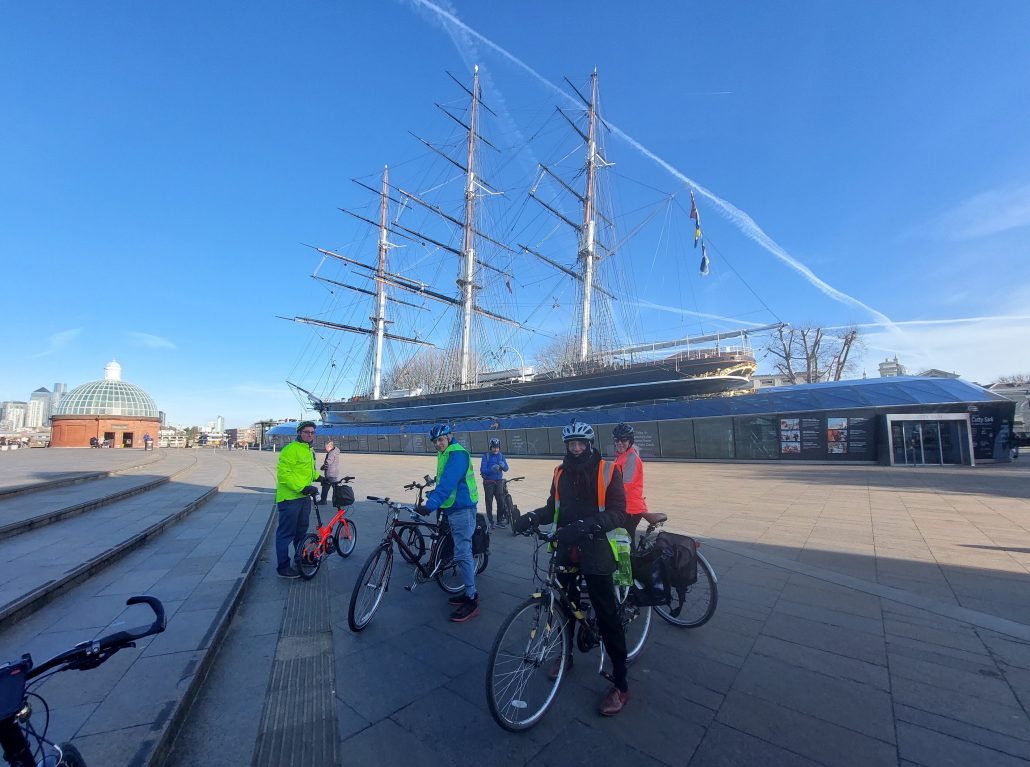 Dulwich to Kensington Palace
10am to 1.30pm. Start/Finish Dulwich Park Café. 16.5 miles.
Report from Ride Leader Bruce.
Sunny periods, but cold wind, for the 15 riders gathered at the Café in Dulwich Park. With Jamie and Jean looking after the back of the peloton we progressed to Brockwell Park. This was incredibly busy along the lower path so we had to ride carefully. Almost a relief to be out and on to the road at Brixton Water Lane. Headed down to Brixton Central but avoided the big junction with Acre Lane by taking paths and quiet streets to the west. Eventually joined Brixton Rd at Ferndale Road and followed this all the way to the junction with Camberwell New Rd close to the Oval. There are no cycle facilities on this important artery, but it is downhill and has quite a lot of bus lane.  Swung round past the Oval and took the cycle lane (Cycleway 5) and continued along this through the Vauxhall junctions and over Vauxhall Bridge. Used the crossover cycle lights to get to Drummond Gate. Past Pimlico station and a long run down Lupus St, right to Sutherland and eventually across Buckingham Palace Rd and into Belgravia. The white terraces of the Grosvenor Estate looked splendid in the bright sunshine. Complicated route here where I was sure I would get lost. However it turned out 2 of the riders knew this posh area suspiciously well and were able to help at moments of indecision. Route passed Eaton Square, then Lowndes Square before crossing Knightsbridge at the handy cycle crossing and into Hyde Park by the Albert Gate.  Took Rotten Row to Kensington Gardens enjoying sunny views of the Serpentine. Crossed into Kensington Gardens and took the only "legal" path to Kensington Palace. Pleased to see that despite a lot of waiting at traffic lights we had arrived in good time to have a coffee break. The Orangery café in the Palace in not cycle friendly so we moved to the small coffee booth at Palace Gate. There was only one person serving so delivery of essential refreshments was a bit slow. Survival was much aided by Juliet producing some very tasty home-made shortbread.
Return was delayed by people insisting on enjoying the sunshine and in no hurry to depart! Once we were moving we rode past the Albert Memorial, down Exhibition Road (big queue at the Science Museum), past south Kensington station, down Onslow Square and Pond Place and past the Royal Marsden Hospital. Started seeing cycle route signs to Albert Bridge which was helpful as this was the next landmark. Crossed the Kings Road and headed down Oakley St to the bridge. Ducked into Battersea Park and followed Carriage Drive W to the exit on to Prince of Wales Drive. Rode across to Cambridge Rd, followed this to Latchmere Rd and picked up a handy small turning (Latchmere Passage) that took us under the railway and into Falcon park. From there we were quickly on Falcon Rd and passing Clapham Junction Station (remarkably little evident from the street despite being one of the busiest station in the UK).  Routes from Clapham Junction to the Common are not easy with a group. There is no assistance for cyclists along the A3, and anyway the crossings are all at points where pavements are narrow and the traffic islands are tiny. We opted to head south along Northcote Rd and take Broomwood Rd to the Common. Brief stop to get oriented at the bandstand. In fact took out my phone and put the route up, determined not to get lost on Clapham Common (as had happened…). This strategy was successful and we made it to Narbonne Rd and LCN 25 without mishap. Next brief stop was at Brixton Mill. Always a surprise to see this fine mill in such an urban setting. Crossed Brixton Hill at the lights at Blenheim Gardens then quiet streets and the Tulse Hill Estate to Brockwell Park for the second time. Up to the top and down to Rosendale Rd. Used the new wanded cycle lane up to Turney Rd and back to Dulwich Park. In the end, nicely on time and no one unaccounted for.
Route map:  https://www.google.com/maps/d/u/0/edit?mid=19HnrOT4AgftjAX0ZWS8AGzNQbXgXONxO&usp=sharing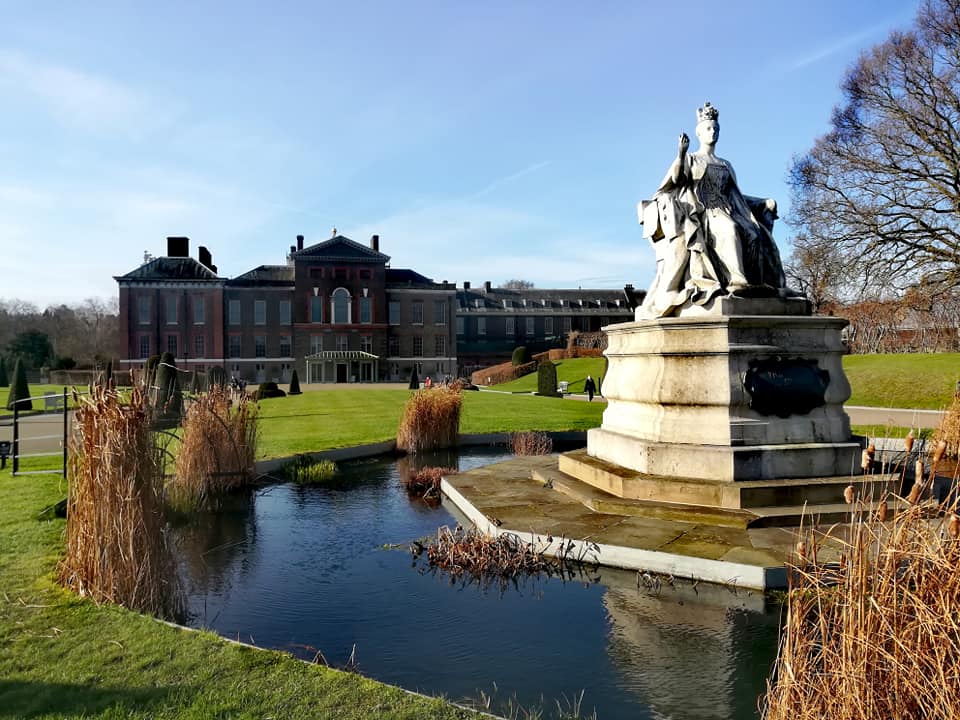 Video from Jacquie on HR Facebook Group
Back to Ride Report 2022 Index
Back to Healthy Rides Home page.