Dulwich-Clapham-Battersea Loop and 2. Parks, Cemeteries and a Museum from Peckham
Dulwich, Clapham, Battersea Loop
In spite of a cold misty start to the day, we were 13 riders leaving from the cafe at Dulwich park led by Jean and with John looking after the rear. Going through Brockwell park – we took the more challenging route up the hill to the Mansion (which is due to be refurbished) and even in the fog there were good views from the top. On we went to and through Clapham Common. Down the main road to Battersea Park where there was a half marathon in progress. We met one finisher who had done it in 1hr 14 – which is a pretty good time. We stopped at Pear Tree cafe. Queues not too bad in spite of the event. The heron was intent on feeding on leftovers. (but we didn't share Juliet's lovely ginger cookies with him). Then we went by the river through the Battersea Power Station development where there is currently a light festival ( https://batterseapowerstation.co.uk/whats-on/detail/light-festival-2022) 13th January – 27th February with 6 installations. We spotted 3 of them but didn't go looking for the others. Looking pretty good but would be even better in the dark. We then went along the river to Vauxhall Bridge, up past Oval Cricket ground, through Myatts Fields and via Loughborough Junction back. Everyone managed the challenge of the hill at Herne Hill Road to hit Red Post Hill and ride down and through Dulwich village to the park.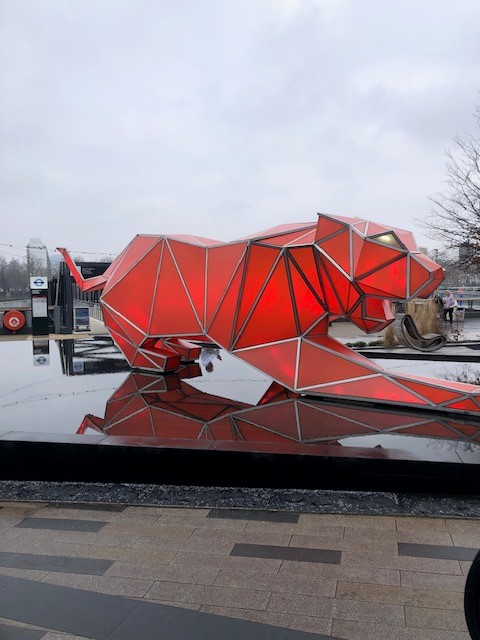 Parks, Cemeteries and a Museum
11 riders at the start in Peckham Square with Bruce joining at Peckham Rye Park. Up the hill to Nunhead Cemetery and carefully through on the sometimes tricky paths. Round to Packham Rye Park, just across the top and via quiet streets to Camberwell Old Cemetery. Not as much atmosphere as Nunhead but surfaced paths. Along Wood Vale then the short uphill to the Horniman Museum where we stopped to look at the view (mostly across to the Dawsons Heights flats) and a photo. Exited via Horniman Drive, then quiet streets to Brenchley Gardens and our third Cemetery, Camberwell New Cemetery. Very different in style to the previous 2 older cemeteries, but really nice paths. Over the railway on the foot bridge then down the hill to cemetery number 4, Brockley and Ladywell Cemetery. Another old cemetery with crumbling paths and a confusing layout. Simon led faultlessly and we exited at Ivy Rd. Next stop Hilly Fields. Well named as the short climb is a challenge. Nice views back towards Central London, even on a dull, slightly misty, day. Fast run down to Brockley station and the morning's coffee stop. Quick service saw the group ready for the last part of the ride. Up to Nunhead on an easy gradient, then a short stop in Telegraph Hill and down to the start point in Peckham. Nicely on time and much healthier!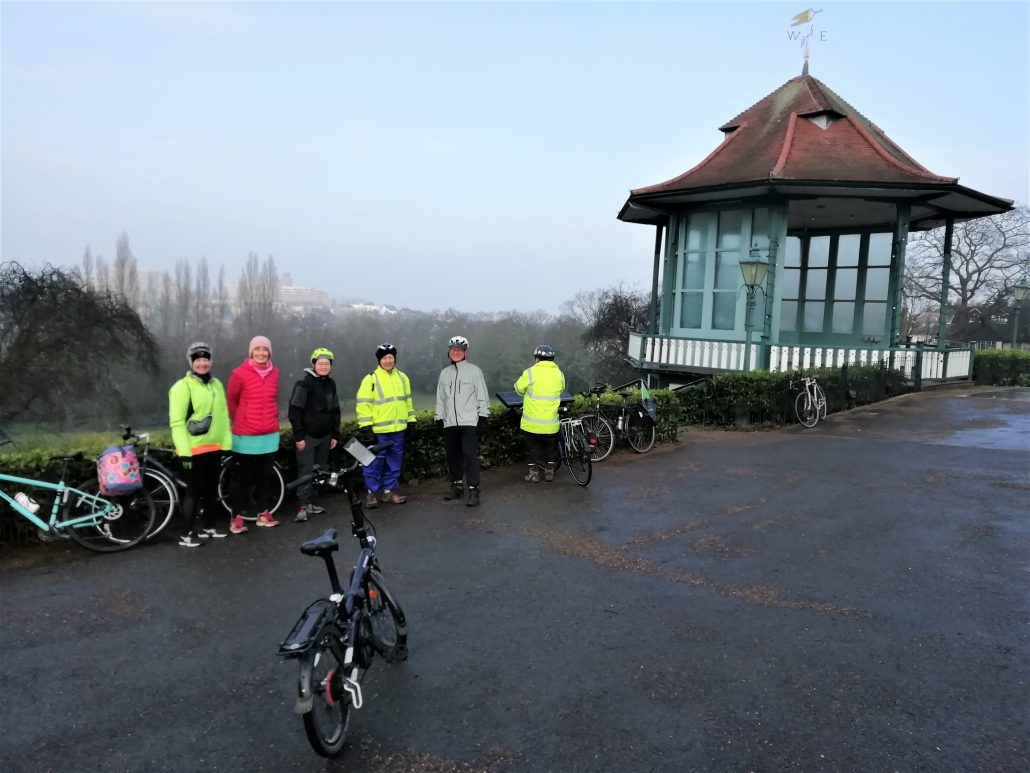 Back to Ride Report 2022 Index
Back to Healthy Rides Home page.