Royal Docks Loop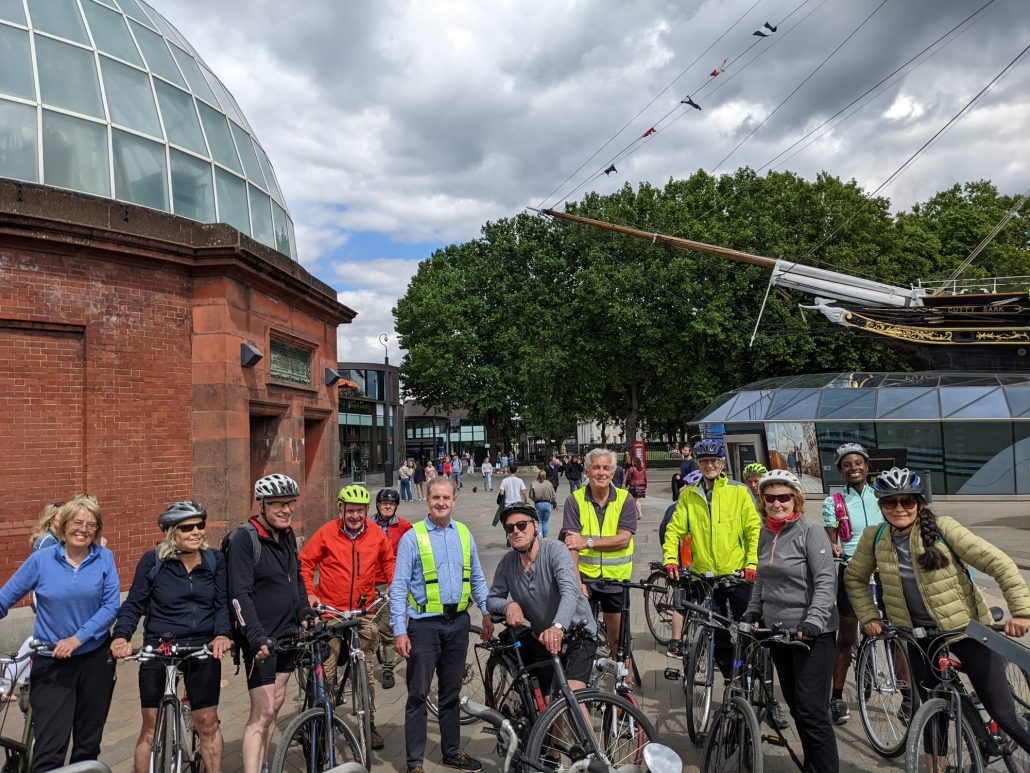 One of our regular routes from Cutty Sark, out on north bank to Royal Docks then cross at Woolwich and back on south side. Jamie leading a group of 30 riders. Things did not go well and ride did not get back to Greenwich until 2.30, 1h 30 min after the advertised finish time. I will let Jamie explain in his statement for the defence at the inevitable Court of Inquiry. Perhaps his best defence would be to show the smiling faces in the photos. Will leave the reader to separate the fact from the fantasy!
Southwark Crown Court Case No: 345/78B, Southwark Cyclists V Jamie Pedrick
My defence Barrister has not yet had sight of the prosecuting Barrister's case against me but I thought it wise you get my case for the defence counsel in early which is as follows… Having been recently informed that both Cutty Sark lifts were out of action I arrived at the Greenwich Novotel hotel at 9:45. By 10:00 am our numbers had swelled to approximately 25 riders which included several newbie riders. I was told by two separate riders that their friends were on their way and would be with us shortly thus I decided to delay our departure on the DLR by 5 minutes. Just as these late additions joined us David Maddell who had already been with us for over twenty minutes then decided to seek a loo and directed me to look after his bike which I foolishly agreed to do. 5 minutes later a couple of riders suggested that as we were all present we could make our way to the DLR platform to get to Mudchute. I then moved the ride to the DLR platform completely forgetting about David and leaving his bike unattended. Once on the platform we had to wait nearly 10 minutes for a train for some inexplicable reason which resulted in us arriving at Mudchute later than expected and without David or his bike unbeknown to myself. With a couple of riders waiting for us at Mudchute we then returned back to Island Gardens to collect yet another handful of riders. Most of them were newbies who we're already confused as another but unconnected cycling group had arrived at the same location but were heading for North London. Additional time was then wasted trying to extract newbie riders whom we were unfamiliar with to ensure they joined the correct ride. To save time in the end we had to use force on some of the riders by padlocking their bikes to other SC bikes and obviously confiscating their phones. I now admit that a percentage of these riders were not on my list and were never supposed to be attending the SC ride in the first place having simply been in the wrong place at the wrong time.
By now several riders were becoming distraught and it was already 10:45 yet we had not gone anywhere, nor had I yet been able to do my final role call before giving a proper safety briefing which included an urgent update on the unexplained outbreak of Monkey Pox amongst so many SC riders. It was only when we arrived at Island Gardens that I learned that I had been completely misinformed in that the lifts in the Cutty Sark tunnel were all working perfectly. This was clearly evident by the fact that David Maddell who had been cruelly abandoned in a public convenience on the other side of the river had somehow arrived at Island Gardens on foot without his bike before the rest of us. Fully briefed, 30 of us finally set off at 10:55 with a Backstop and two Marshals who ensured that no-one escaped and we had a swift but pleasant run down to East India dock and on to arrive at Royal Dock for about 11.30. We stopped for a much needed coffee for approximately 30 minutes where because of the ridiculous length of time that it took for my coffee to arrive I decided to take up smoking which I now regret.
At approximately 11.50 we swung by Mayor Khan's new office the Crystal Building, to watch the trapeze water skiers for 5 minutes and then watch the demented swimmers arguing due to their clothes having been stolen. During this time another sizeable cycling group came alongside and to my surprise I found myself being greeted by the delightfully cheerful Harry from Bexley Cyclists. With many of us already knowing their pleasant group there was obviously some banter and catching up before we went our separate ways.
I was not aware at that stage of the spate of abductions of cyclists by rival London cycling gangs in order to increase their LCC grants. About 5 minutes after our friendly departure I was requested to stop by one of the Marshals who told me that we had a problem. One of our newbie riders told me that his partner who was new to cycling had accidently joined the Bexley ride heading in the opposite direction. I paused the ride and made best speed back towards Bexley cyclists but sadly the only trace of the missing cyclist was a pair of her pink cycle clips so I returned to the shocked group. The new rider had been calling his partner's phone but to no avail. As if matters could get any worse, I was then told that David Madell was also missing and we had to assume the worst for our old cycling comrade who was now in the treacherous hands of Bexley Cyclists.
Waiting for more news we suddenly saw the newbie rider clutching his phone in floods of tears having finally managed to get through to his inexperienced partner. With a bewildered expression he explained to us that he'd been told to deposit a large sum of used banknotes to an unknown charity with some mysterious links to the Duke of York.
The fear in our cycling group was palpable and realising that we could be of no further help I decided that we had no alternative but to leave them to it before an SC mutiny challenged my failing leadership. We then progressed to the excel exhibition centre and negotiated an alternative route through the excel car park network that I had reconnoitred the day before to circumnavigate the closed river path section. Despite attempts by numerous excel security personnel to reroute us we carried on and were suddenly surrounded by hordes of strange figures in a myriad of insanely bizarre ancient and futuristic costumes, make-up and hair colour some of who were locked in mortal combat. Some of our riders suggested that this was a symptom of the COMECON virus and that we should leave immediately. We quickly re-joined the main Royal Dock path that overlooked City Airport where strange and alien aircraft seemed to be landing and taking off vertically.
We carried on and up to Gallions Point Marina which to our disappointment had been completely boarded-up as had the access route over the enormous Thames lock access crossing to Silvertown where on another SC ride in early 2021 riders had nearly come into conflict with a Royal Navy Frigate. We were told that the whole Galleon's point Marina and extensive cement works had recently been sold to Roman Abramovich and a Chinese property consortium to be redeveloped into a new football facility called Chelsea World.
Even later now but still alive we managed to backtrack for some way to reach the iconic Sir Steve Redgrave bridge crossing which as usual on the last Saturday of the month was surrounded by thousands of garlanded rowing worshipers enacting Sir Steve's epic 2012 Olympic victory against the House of Lords crew. With increasing excitement we crossed into Royal Victoria gardens knowing that the Woolwich Ferry was ready and waiting to take us safely down the Thames on a relaxing cruise. We sped down the Silvertown jetty road and around the last corner only to be greeted by a massive solid steel door in front of which stood two dozen striking ferry hands who were angrily protesting against cyclists.
We fled immediately down the terrifying Woolwich Tunnel knowing of its legendary danger but we were by now running on adrenalin. Only a handful of us survived the tunnel and we pedalled back down the southside of the river without further delays as fast as our kilts would allow ignoring the sunken Mersey Ferry and finally arriving back at Cutty Sark from our adventure against the forces of evil approximately one and a half hours later than planned. I hereby swear that this is the truth to the best of my knowledge and this concludes the case for the Defence.
Back to Ride Report 2022 Index
Back to Healthy Rides Home page.