Salter Centenary Ride
Dulwich to Wimbledon Park
Salter Centenary Ride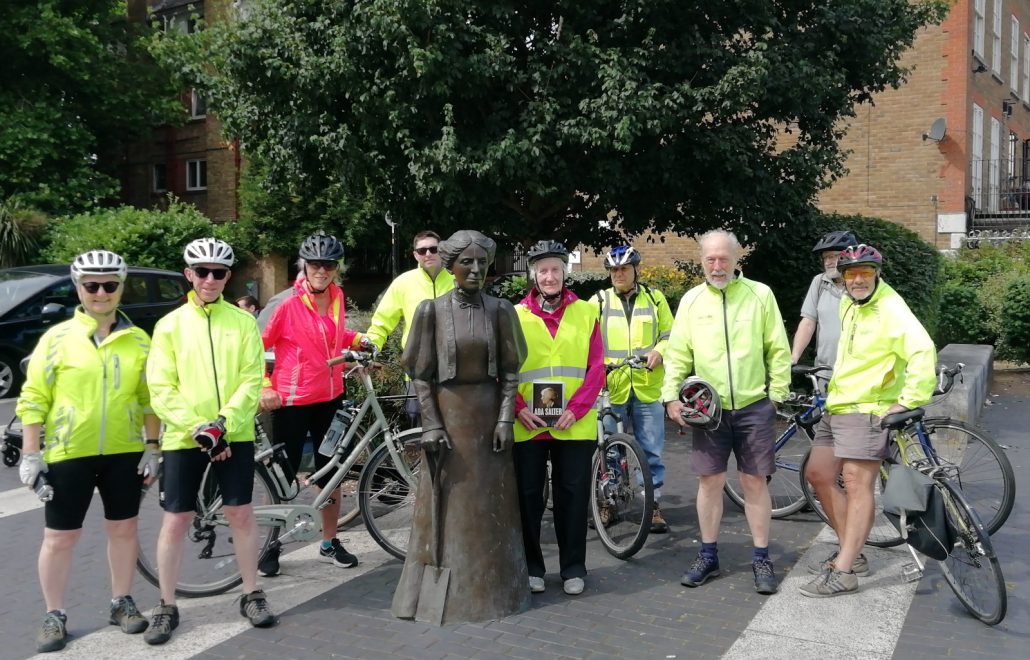 Short ride around Bermondsey to sites associated with Ada and Alfred Salter. 2022 marks 100 years since Dr Alfred Salter was first elected as MP for Bermondsey and his wife Ada was elected as Bermondsey's Mayor. A Salter Centenary Project has been organised by local people and this ride is being planned in conjunction with them. Both Ada and Alfred cycled, making this ride a particularly appropriate part of the centenary celebrations.
11 riders set off from Canada Water, first stop the Salter Statues on Bermondsey Wall East. Sheila gave a short account of the history of the statues (stolen then replaced + Ada) and the Salters. Continued past the site at the end of West Lane where Ada ran 4 "Bermondsey Girls Clubs") towards Wilson Grove. Briefly distracted by a huge crane on the Sewer site lifting the tunneling engine that has now finished its work linking a Greenwich sewer to the main pipeline. Wilson Grove was a "model" social housing estate designed by Ada when she was Mayor. Still looks really nice, especialy as the sun was out. Smooth cycle along Cycleway 4 to Tooley St where we turned off and located the Salter Vault. This is in a corner of the Alfred Salter Playground off Druid St and contains the ashes of Alfred and Ada. It is hard to find, just a small plaque at ground level and a small brick "vault" hidden in the bushes. As Shiela pointed out, needs a better location. Next stop Tanner St Park, location of a famous picture of Alfred and Ada planting a tree, then on to the Health Centre in Grange Rd. This was very innovatove in the 1020s, bringing together the work of several specialities to provide accessible health care. The building is a nice exmaple of a small art deco civic building. It is still in use as an NHS health centre. Next Bermondsey Town Hall. Ada was based here as Mayor and Alfred held political meetings there. The nicely converted Town Tall is in fact not the town hall of Ada's time. This was bombed in WW II. Only 2 pillars and a bit of railing outside Sainsbury's has survived from Ada's town Hall. Next a late addition to the programme – a visit to the new mural in the Blue shopping area. On a gable end in the Blue's small car park off Jamaica Rd we now have a splendid mural with Ada at it's centre. Finally round to Southwark Park and a moment in the Ada Salter Garden – yes, designed the lady herself. At this point, as we were running late and the craving for caffeine was immense, we decided to stop and have a relaxing drink on the lakeside patio of the cafe.
Ride Leader was Bruce Lynn and brief background descriptions were provided by Sheila Taylor. Annotated route map at https://www.google.com/maps/d/u/0/edit?mid=13nSFGGQYBAplsyn_gwmC7tUYDL5gFWL-&usp=sharing. Sheila's notes also appended below. With the map and the notes, could treat yourself to your own self-guided tour.
Dulwich to Wimbledon Park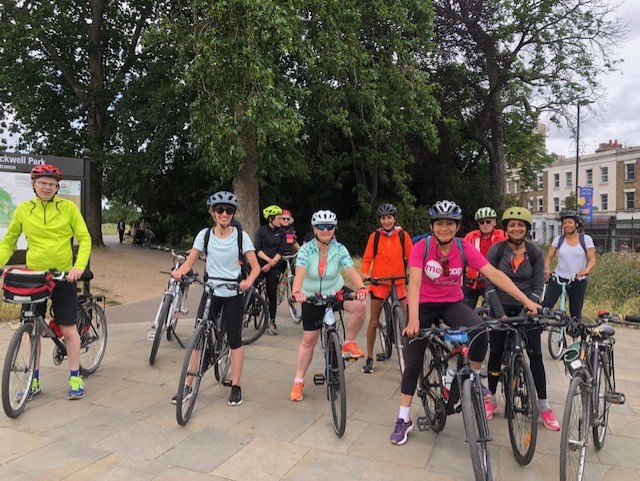 Ride led by Jean and John. Here is their description of the ride:
"17 riders set off from Dulwich Park including some regulars and a few welcome newcomers. We managed the difficult junction at the bridge in Herne Hill – somehow getting through on a single change of lights.  Stopped inside the gates of Brockwell Park to make sure we had everyone & then passed by the wildflower area adjacent to the lovely Art Deco Lido building. Across to Clapham Common where we picked up a waif or stray Tim – who saw no purpose in coming all the way from Wandsworth to Dulwich -just in order to turn around and return – and so had arranged to be picked up en route. The beautiful bandstand from 1890 was restored 15 years ago and each  Saturday & Sunday in summer hosts great brass band concerts at 2pm. Onwards to Wandsworth common, past Wandsworth prison and all the way downhill to Earlsfield. The right -left turn at the lights is always a bit of a challenge and even more so on our return where our determination to hold the road caused a lot of honking of horns by motorists as we waited for the green arrow to enable us to turn right.
We had half an hour in Wimbledon Park – a few tried out a coffee shop up the road while others enjoyed the offerings of the Park cafe which currently is staying open 24/7 – very likely for the fans expected to be queuing for day tickets for adjacent Wimbledon tennis next week. We returned intact – 5 minutes ahead of schedule – even having time to visit Herne Hill Vélodrome which welcomes bookings for their track try-out and training sessions as well as kiddie bike training."
Back to Ride Report 2022 Index
Back to Healthy Rides Home page.