Brutalist Architecture
Great Trees of SE London
Brutalist Architecture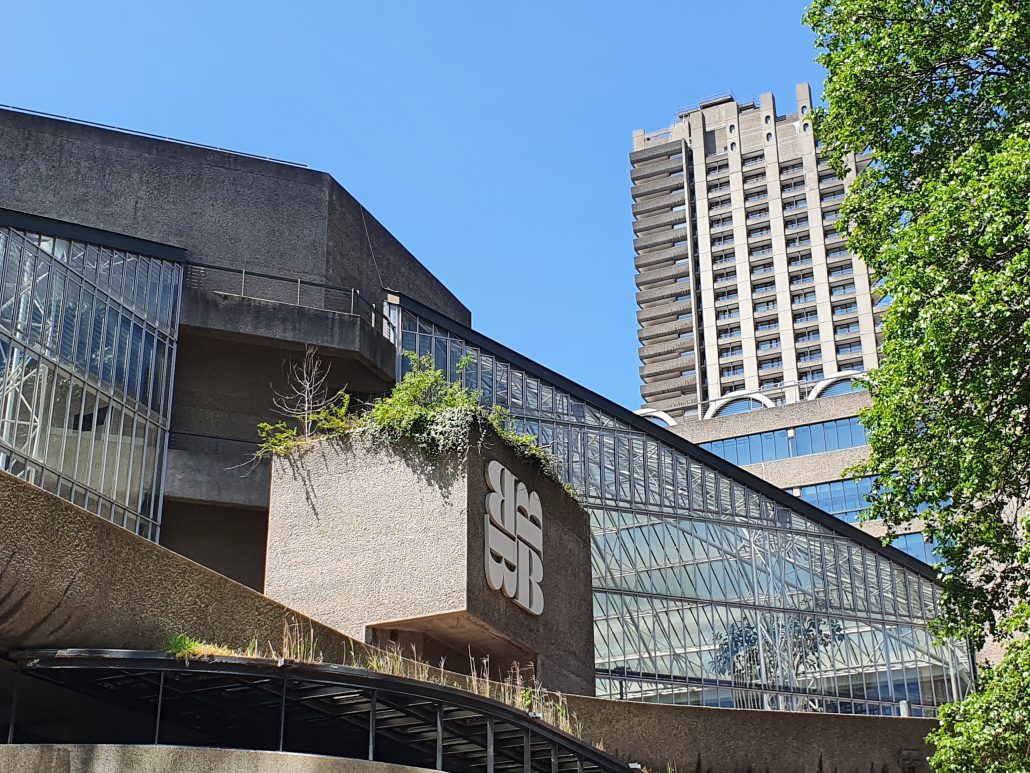 Ride Leader Eva. Here is her report:
"14 Riders were there at Greenwich Station on time for the early start at 9.30 am, and we were joined by 3 more riders who came directly to Mudchute Farm. In wonderful weather we rode to 11 Brutalist buildings on the North side of the River, 9 residential and 2 public buildings. The residential buildings comprised failed concepts such as Robin Hood Gardens, desirable private residences (eg Balfron Tower, Keeling House, Barbican), and a successful social housing cooperative (Glenkerry House). Ernö Goldfinger's architectural concepts were discussed with the same interest as his spat with Ian Fleming about the use of his name for Bond's arch enemy ?. Regrettably a police cordon required an impromptu detour away from Q13 onto busy Old Street, but we found our way back to the route easily and finally had a coffee break at the Barbican. 2 more buildings thereafter, and then more and more riders peeled off on the way home, until were were 5 coming back to Greenwich Station."
Jamie e-mailed "what a superb ride Eva led this morning. We were blessed with lovely weather and had a strong turn-out. Eva had obviously done a significant amount of research on the subject of brutalist London architecture and everyone who attended was absolutely fascinated"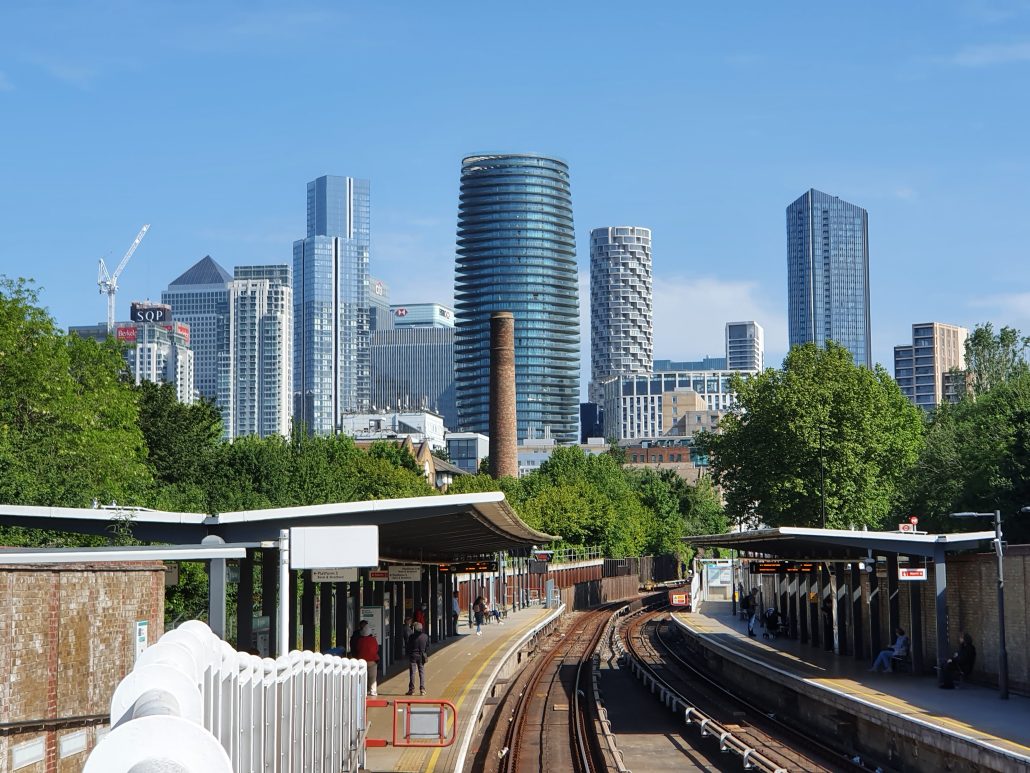 Back to Ride Report 2022 Index
Back to Healthy Rides Home page.
2. Great Trees of SE London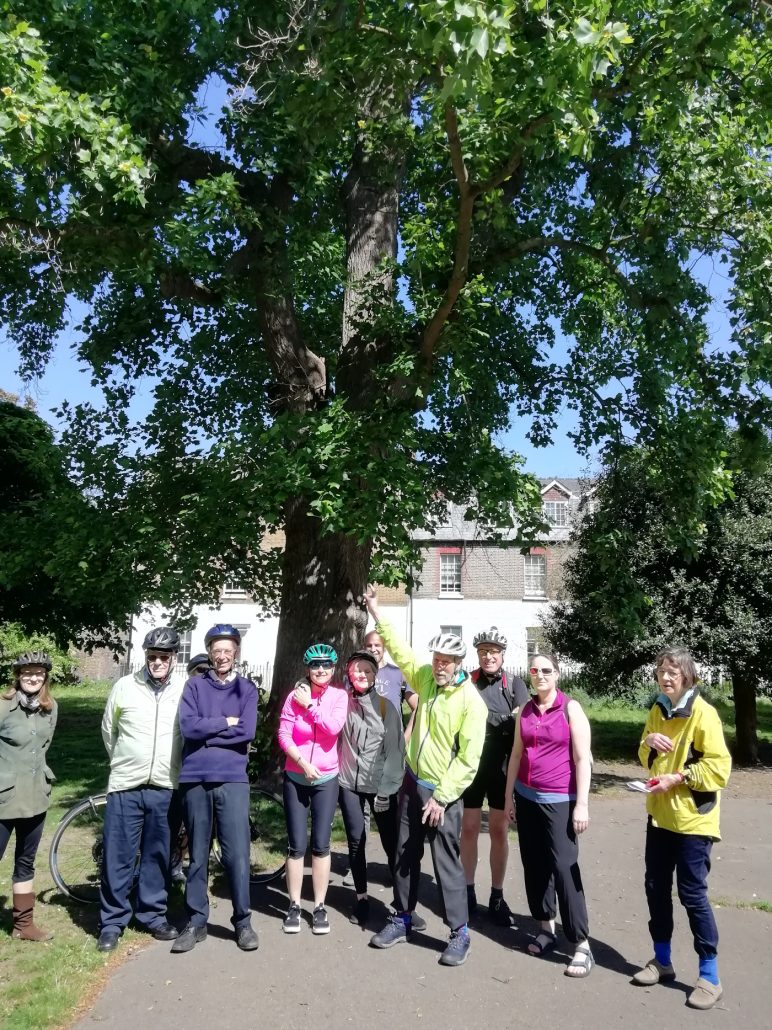 A ride to look at some trees. We did this last year and were asked to do it again – so we have. Inspiration comes from a talk in 2021 to Better Streets Southwark by Paul Wood about Tree Talk and his amazing Tree Map. Route is based on Paul's Great Trees of London Map (£8 from book shops).
13 of us set out at 10am from the Southwark Needle on an 11 mile circuit to 6 of the Great Trees. We had to miss the palm trees at Chumleigh Gardens in Burgess Park as access is closed due to work being done. First tree was the Norfolk Pine next to some flats off Gt Dover St. The presumption is that this was a Christmas pot plant that was stuck in the garden rather than being binned. It is now up to the 4th storey! Quite a success for a tree native to warmer climes in Australia. Next stop Lucas Gardens off Peckham Rd. The enormous Tulip tree is the star here. It is just starting to bloom (see photo) and will be a sight to behold in a few days when all the flower buds are out. Lucas Gardens is a little arborial gem – there are several other large trees, notably a superb Copper Beech. Long run next to New Cross Gate for a peep over the roadside wall at a Coast Redwood strayed from California and growing on waste land next to Platform 1 of New Cross Gate Station!
From New Cross a short hop to Sayes Court Park in Deptford to admire the old Black Mulberry reputed to have been planted by the Tsar of Russia when he stayed at Sayes Court during a visit to study the British Navy in the 1600s. Rode on through Surrey Docks to Lower Rd where the Southern Silky Oak (another Australian tree, extremely rare in the UK) is still alive in the corner of the building work now going on to transform the Canada Water area. Must say it does not look happy. Finally along Cycleway 4 (Jamaica Rd) to Tooley St. Off Fair St we looked at our last tree. This is a Tree of Heaven that marks the vault contaning the ashes of Dr Alfred Salter and his wife Ada. Ada was Mayor of Bermondsey in the 1920s. She was a great believer in the importance of greenery for people's wellbeing. Many trees were planted during her time as Mayor and one of her favourites was the Tree of Heaven. More on Ada and Alfred when we do a Salter Centenary Rdie on June 25th.
A beautiful sunny late spring day. A ride that ran to time and had no bike mechanicals. What more would you want! Annotated route map at https://www.google.com/maps/d/u/0/edit?mid=1WMWt1qLR_4_obNGcwNHD3Sghfv22eLEW&usp=sharing. Special thanks from Ride Leader Bruce to Jane for looking after the back of the group and to Jean for helping at many of the crossings.
Back to Ride Report 2022 Index
Back to Healthy Rides Home page.