Greenwich to Danson Park
Peckham Round the Parks Ride
1 Greenwich to Danson Park
Report by Ride Leader Eva.
A very enjoyable ride from the Cutty Sark to Danson House and back via the Thames Path along the river mostly in glorious sunshine. A group of 18 riders set off from the Cutty Sark, and thanks to the stellar marshalling support of Jamie and Jean we managed some ambitious road crossings and right hand turns. For a long way we cycled along the Rochester Way Relief Road crossing the A2 several times. Whilst one cannot describe it as a "quiet route" due to the incessant car noise, it is a flat cycling and pedestrian path without car traffic and therefore an easy direct way to Danson Park.
Back in 1995 Danson House was categorised by English Heritage as the most endangered historic building in danger of collapse in South East England, before they took it over and restored it to its former glory. Amongst the riders was Tim who actually supplied the remake of the glorious wallpaper from the original wood blocks! After a well deserved coffee break we set off up and down across Welling and Woolwich past the new Elizabeth Line station in Woolwich until we hit the Thames Path and enjoyed our ride back to Cutty Sark.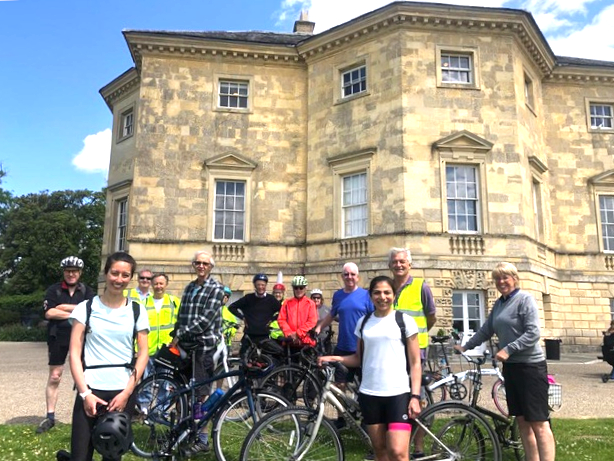 2 Round the Parks
Only 2 riders – a pattern at present for the short rides. In excellent weather we set off from Peckham Square down the Canal Path to Burgess Park. Rode all the way across Burgess Park to the west end and on to Myatts Fields. On rider (Nicolas) was French and was intersted to hear that the land for this park was a gift in 1889 from the estate of William Minet, another frenchman. From Myatts Fields on to Ruskin Park via the tiny Elam Street Open Space. The trapeze school was in action in Ruskin Park and we watched in amazement for a while. Rode down the Greenway into Dulwich and circulated around the Park. In conversation it transpired that Nicolas' father had been a professional cyclist. We diverted to Herne Hill Velodrome. The velodrome was busy as usual. A large group on the track training, plus the youngsters on the mountain bike trail and the very young doing bikability stuff in the centre of the track. Nicolas said watching the track cyclists brought back memories, and busied himself taking photos on his phone. In the pavilion he spotted the pictures of Jaques Anquetil with whom his father had ridden. Finally over to Peckham Rye Park and back to Peckham Square.
Back to Ride Report 2022 Index
Back to Healthy Rides Home page.