Ride report, June 27th 2020. By ride Leader (Bruce Lynn)
This was the first "tiny" ride for maximum 6 riders, as per current Government Covid guidance. Four of the 5 people registered turned up at Deal Porter Square, next to Canada Water Library. As Philippa was also at the start to discuss the web site with me, she was able to join the ride.
With rain threatening we headed to Southwark Park. Circuit of the park then exit across Jamaica Road using the new Cycle crossing to Cathay Street. I think of this as "Barry's Crossing" as I remember the late Barry Mason, on a Healthy Ride many years back, telling us that the powers had agreed to make a crossing there. So now, maybe 15 years later, nice to see it.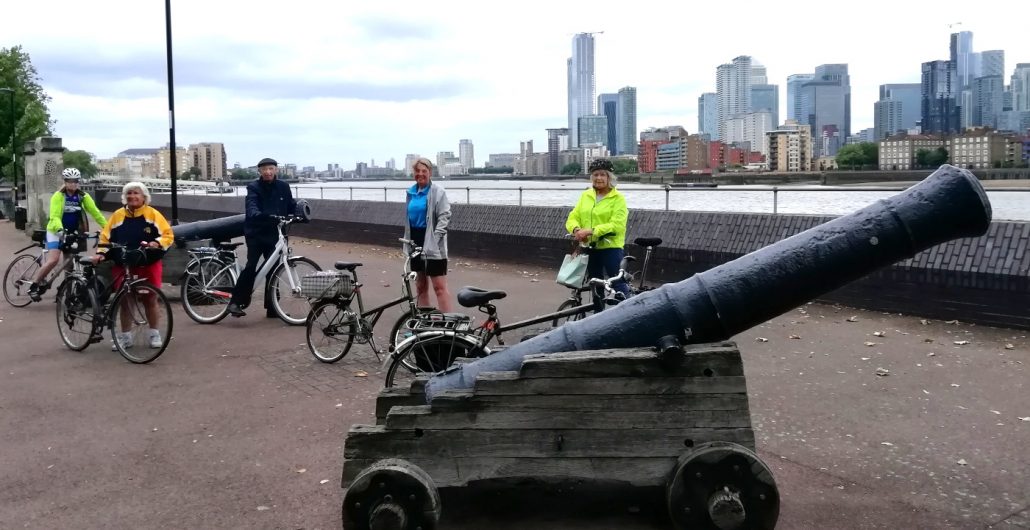 Joined the Thames path at the Salter statues and headed downstream, following the river all the way to Foreshore on the Deptford waterfront. En route stopped to observe the house martins at Bellamys Court and detoured inland at the Surrey Docks Farm where the riverside path is, like the farm, closed.
Returned via a convoluted inland route. First to the Surrey Canal Linear park, then round South Dock and Greenland Dock. Stopped at the Barry Mason memorial statue on the north side of Greenland Dock. Next a quick look at the houses in Plover Way that appear to be built on water. Decided to cut out the loop back to Durands Wharf and instead ride directly into Russia Woodland via Bonding Yard Walk (now part of Cycleway 14). Across to Stave Hill and a stop to ascend this small mount. Last lap down to Surrey Water and up the Albion channel to the start point in Deal Porter Square. Apart from a couple of very light, brief, showers had kept dry.
Interesting to ride with such a small group. All regular riders and this, plus the low number of riders, made leading very straightforward. We maintained a good cruising speed and this allowed lots of time for stops at points of interest.
Route on Google maps at https://goo.gl/5pFd9b