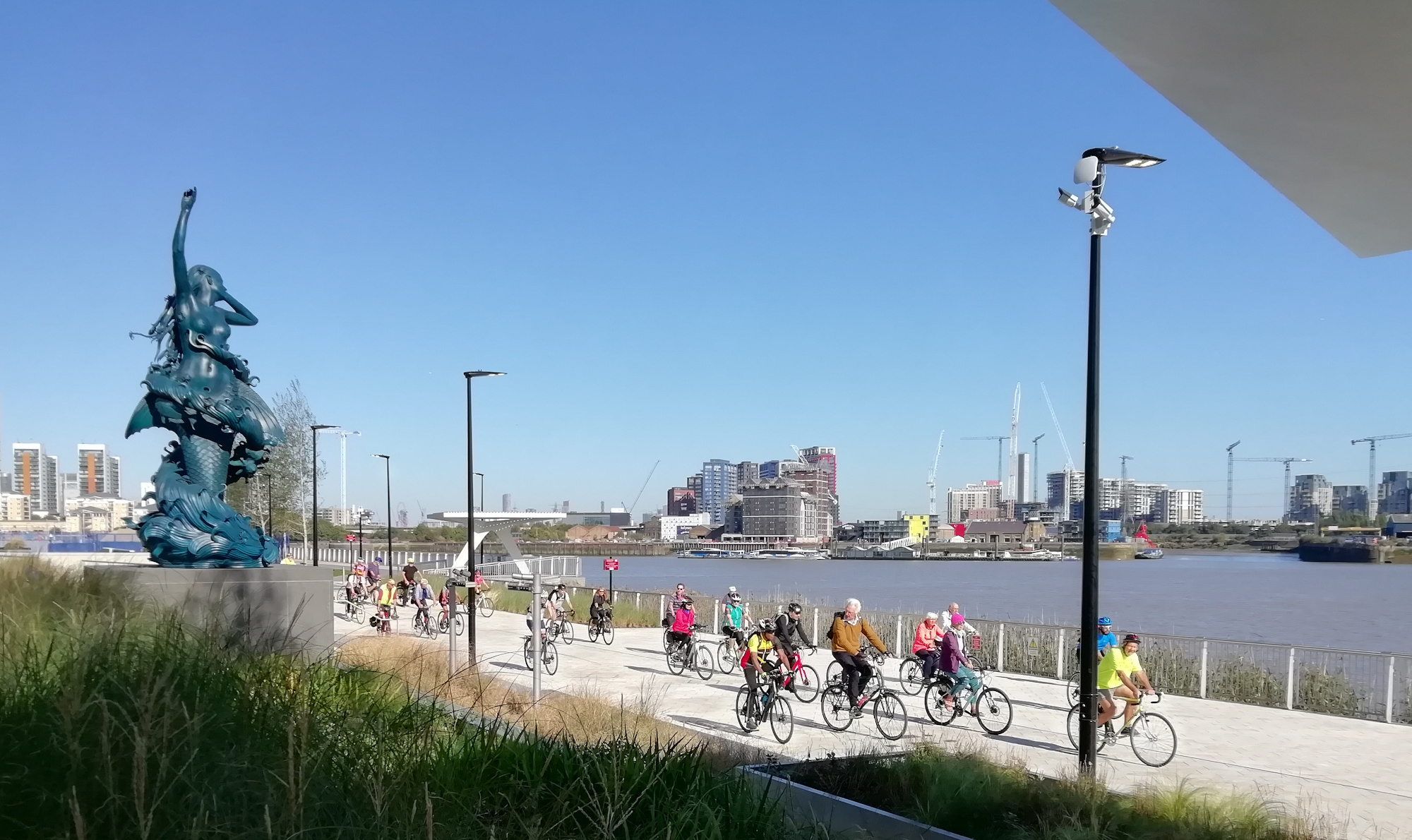 Report by Ride Leader Jamie
An impressive turn-out of 29 cyclists set sail along the Thames River path from Canada Water just after 9.30am in brilliant Indian summer sunshine headed for the Cutty Sark at Greenwich. With Jamie as point man, David as rear gunner and a roving Bruce monitoring time and safety, the long line of bikes made its way east expanding and contracting like a rubber band. Arriving at the Cutty Sark several other waiting riders joined the snake.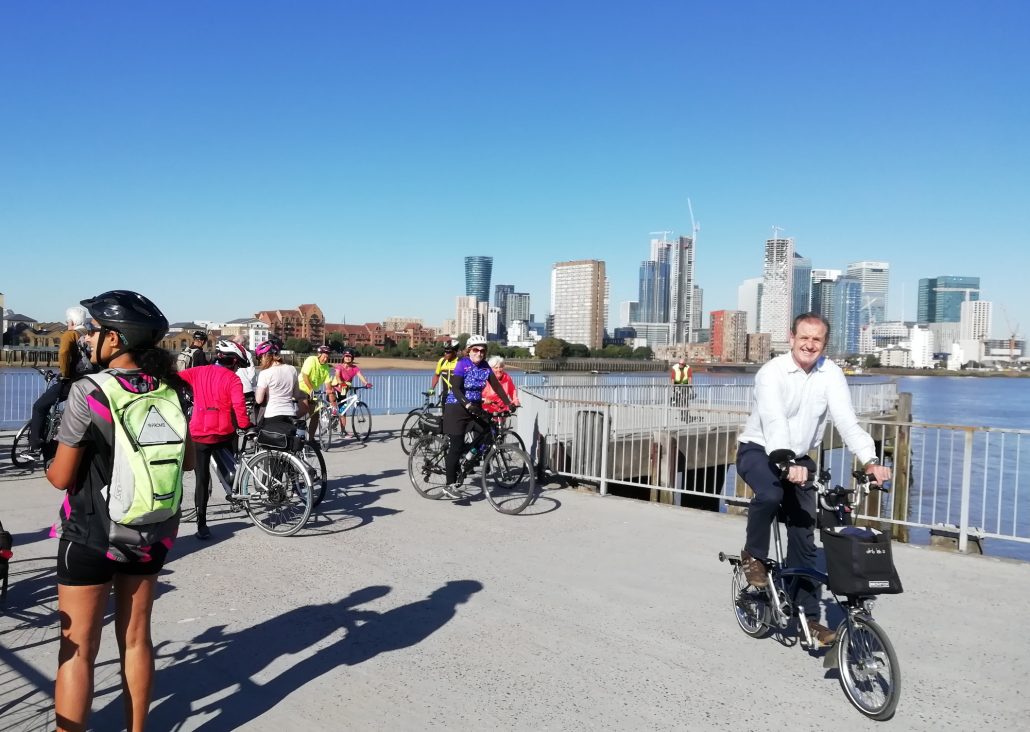 After a quick briefing by Jamie about the route ahead we continued with Jamie helpfully pointing out various landmarks en route. The snake passed The Trafalgar and Cutty Sark Inns with Canary Wharf disappearing and re-appearing in places where some would least expect as we progressed down the most convoluted stretch of the river. Approaching the O2 we paused to observe The Gun, Lord Nelson and Lady Hamilton's favourite Inn on the opposite shore and soon afterwards passed a bizarre full-size inverted electricity pylon. The architectural highlight of the day was certainly the recently opened Greenwich Peninsula raised pedestrian walkway referred to as 'The Tide' with its eye-catching construction with spectacular foliage and landscaping. The vistas it offered were superb including the fabulous upgraded foreshore path not to mention Antony Gormley's famous 'Quantum Cloud' sculpture.
Mermaid by Damien Hirst at The Tide

Twisted Needle Sculpture at O2

Part of The Tide walkway

Thames and Emirates Airline from O2

Cyclists on The Tide near O2 Needle
With coffee now on many a mind we saddled up again and headed for the Woolwich Ferry hopeful of arriving with time to spare before our long and sun filled luxury cruise across the Thames. Regrettably, Jamie's insistence on stopping to point out a semi sunken ex Mersey ferry robbed us of time so that we just missed the ferry, condemning us to the sinister Woolwich Tunnel and its elevators.
Having finally surfaced from the bowels of the riverbed we cut through a park and reached the Sir Steve Redgrave bridge crossing the Royal Albert Dock and the major shipping lock entrance/exit from the Thames. The London City Airport runway was barely 100 meters across water from us. Still dreaming of coffee we sped down the at times narrow path alongside Royal Albert Dock past the University of East London. We were buzzed by several passenger jet and turbo prop aircraft landing to our left and as if that wasn't exciting enough we then passed a fearsome looking racing Chinese dragon boat with its crew in full cry. Jamie unsuccessfully tried to convince our two wheeled comrades that he had personally laid on both these displays at great expense for their amusement.
Albert Dock from Redgrave Bridge,

UEL Campus plus cyclists

Greenwich from Isle of Dogs

Greenwich from Isle of Dogs
As we left Royal Albert Dock and entered Royal Victoria Dock we passed the Excel centre and to our relief the Cable Cars came into view signalling our arrival at the Siemens Crystal café where much needed refreshments were hastily consumed. Replenished, the snake climbed the lower Lea crossing overlooking the Trinity Buoy Wharf at the exit of the River Lea before doubling back to cut through the historical East India dock basin with its splendid view of the Greenwich Peninsula from whence we had come. Onwards and across the Blue Bridge having stopped momentarily to observe Nelson's Gun Inn we then re-joined the north Thames Path and were bathed in blissful warm sunshine whilst we savoured the unmissable views of Greenwich park from afar. We wiggled our way towards the north end of the Greenwich tunnel which we passed along emerging at the Cutty Sark at 1pm where some had lunch and others headed back to Canada Water.

There cannot be many healthy activities more enjoyable than a cycle along a warm and sunny London river path with good company.
Bruce's notes. Route as best I remember at http://tiny.cc/6fabdz. Good to see path along north side of Albert and Victoria Docks is now fully re-opened. New modal filter on Prince St, between Watergate and New King Streets, i.e. past the Dog and Bell pub. Photos by Philippa and myself.
Back to Healthy Rides Home Page