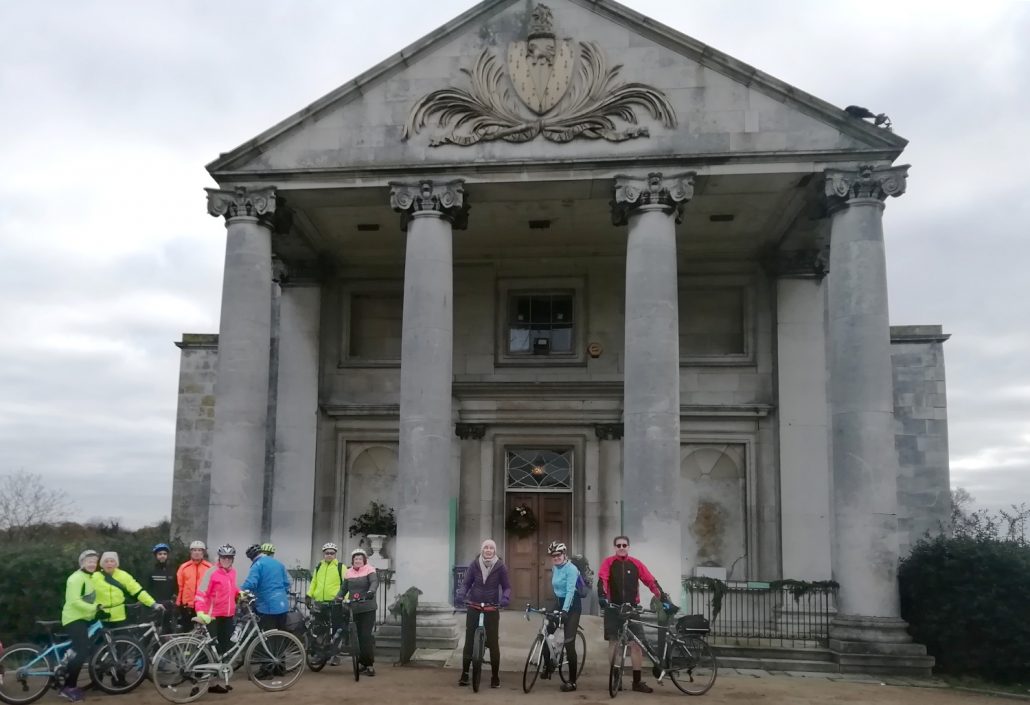 Ride Report, 7th December 2019
14 riders at Dulwich Park on a mild, dull, December Day. Ride went remarkably smoothly. Used the pavement for the first stretch along the busy South Circular. Continued up Lordship Lane, past the Horniman Museum and down to Forest Hill. Dismounted as planned and carefully crossed with the pedestrians and walked through the underpass to Perry Vale. Soon turned off onto quieter streets and Mayow Park. Continued down to Bell Green where we joined the off-road Waterlink Way. Almost immediately left this for quiet streets to Beckenham Place Park. Time for a short look at the outside of the Mansion. This is in better repair than 2-3 years ago when we first visited. However the big change is that the Farmstead, badly damaged by fire several years ago, has been completely rebuilt. It looks quite smart and accomodates a second cafe. The clock on the finely restored tower read 11.05 – exactly right and indicating we needed to get started on the return leg. Locals had been wondering if Lewisham Council even knew about Beckenham Place Park, so very nice to see improvement as a resut of extensive recent work.
Returned by same route to the Waterlink Way and then headed north to enjoy a decent run on the excellent traffic free path to Ladywell Fields. From there took the familiar route of LCN22 to Peckham Rye Park followed by quietish roads back to Dulwich Park. Thanks as usual to David for back marking, also to Philippa and Alan for help at several of the busier junctions.