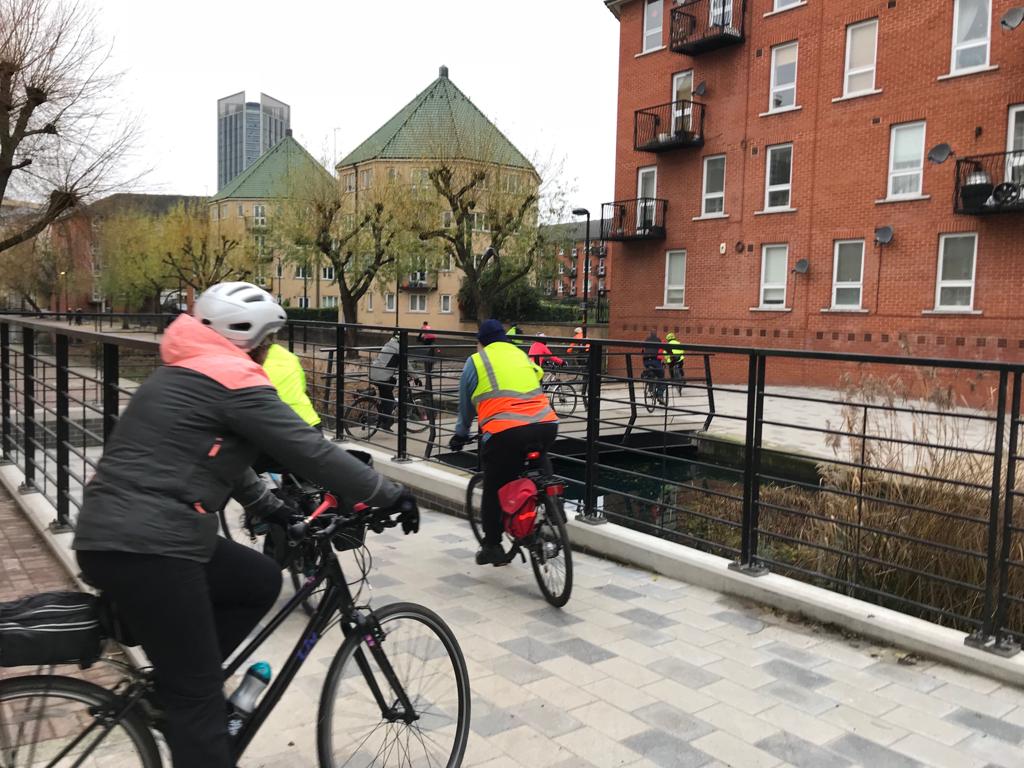 Thanks to Alex for the photos.
This was the third of our trio of Christmas rides in 2019. Big thank you to Werner who led them all. Here is his report on the Dec 28th ride.
The last Saturday of 2019, a year in which we organised more (and longer) healthy rides than ever before.  The fourth Saturday so a Peckham start but plussed to compensate for any indulgences over Christmas.  The forecasts cooperated, they didn't provide excuses, and on a fresh but pleasant morning 16 turned up to ride quietways on a quiet day.
  Down the familiar Surrey Canal Walk to join Q1 in Oxley Close.  Millwall weren't playing at home so we followed Q1 over the Sustrans Bridge and Ha'penny Hatch before turning into Norman Road towards the Thames Path, aka NCR4 or Q14. In Southwark it's now clearly marked Q14 and got two new (actually refurbished but so much improved that they can count as new) bridges. The riders who had come out on Boxing Day had also come out for a preview but still new for some on this ride. Our short coffee break felt a bit strange. After many rides starting from and finishing at the Canada Water Library to go in and spend money on coffee and test the chairs was quite different to just gathering outside and riding off.

  Hardly any cars, quiet roads and only three traffic-lights brought us to the half-way point after just over an hour. That gave us to time for a detour after we left Q14 down to the South Bank where we mingled with pedestrian tourists. The proposed scheme to filter Upper Ground (and hopefully improve the road surfaces) is much needed. Lets hope it gets the go-ahead.
  We headed back using Q1 and followed it to Trinity Street where we switched to Quietway 14. The recent change in policy on names for cycle routes has resulted in markings almost alternatingly saying Q7 or C17. Despite this but we easily found Burgess Park where we had to override muscle memory: neither left to the cafe nor straight ahead for Surrey Canal but a right turn into Chandler Way. Bollards at the Commercial Way end are signs of Christmas Future, it's part of the planned Southwark Spine route. Riding through those residential streets meant we hadn't realised how close we were to the library and we finished 2019 a bit early. And of course much healthier!