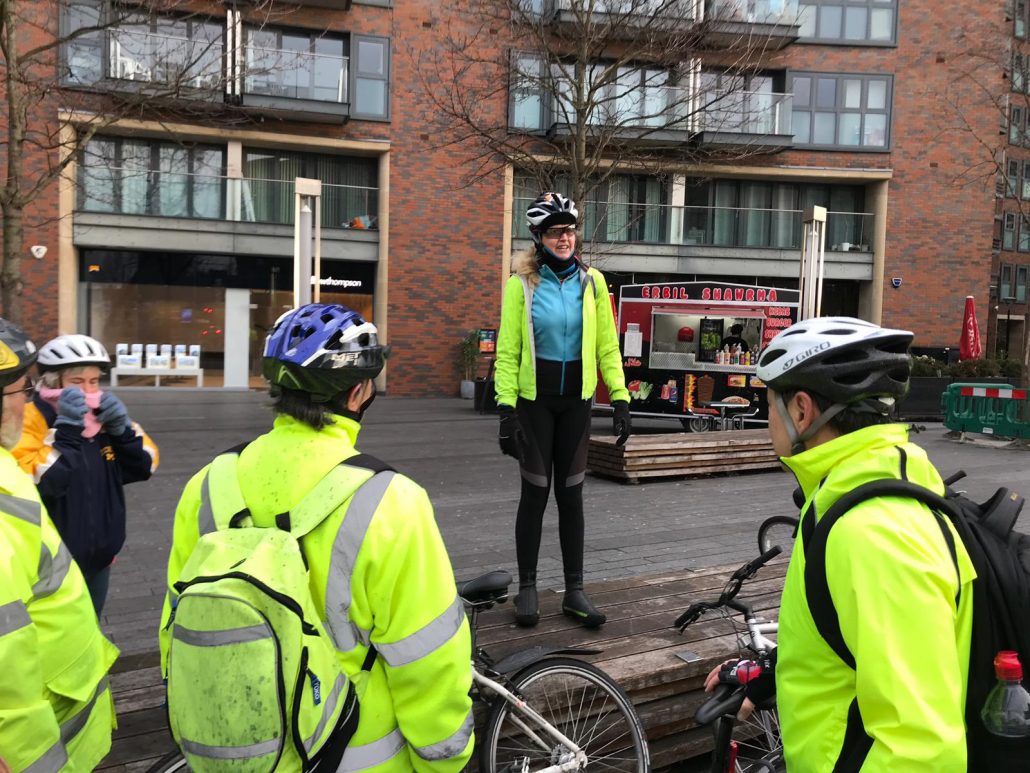 Saturday December 14th. Philippa leading. Here is her account of the ride.
16 of us set off from Canada Water as it was trying to rain though it didn't amount to anything. We headed along NR4 and then a short bit of Q14 trying to avoid the cobbles before having to return to NR4 and its cobbles as Q14 was closed for roadworks (already!).
Continued with a brief stop to admire the view up river towards Tower Bridge and the Shard. Crossed Tower Bridge Road, then heading into Potters Fields and coming out by City Hall for a photo in front of one of the snowmen dotted around the More London area. Each snowman is decorated in the 12 days of Christmas theme. The one by City Hall is 12 pipers piping. We then walked along the riverside by all the Christmas stalls up to Hays Galleria. People enjoyed spotting more snowmen en route. Emerged onto the quiet part of Tooley Street and headed through Borough Market. The wind started blowing hard and gusting at this point which made riding quite difficult. We had a brief stop at Tate Modern to view the Waterfall installation from a distance as the water was being blown nearly to the door of the gallery!
On to Southbank and our destination of the London Eye. Wind at this point was very strong so we didn't hang about as bikes were getting blown around. After photos headed back towards Waterloo at speed as we were blown down the road! Went through the station and out the back crossing into the Cut. More sheltered from the wind thankfully. Then worked our way back to Q1 saying farewell to a few who carried on there as the rest of us continued to Canada Water, ending up in wintery sunshine. Thanks to David for being back marker then Harry for taking over on Q1.