It is said that numerical alignment can bring about positive experiences, and so it was that 19 cyclists turned up at Burgess Park on the 19th October in spite of the fact that Bruce's email reminder had not reached its intended recipients. No matter! Sunshine and showers were forecast and we set off with blue skies though some soggy leaves remained underfoot after several rainy days.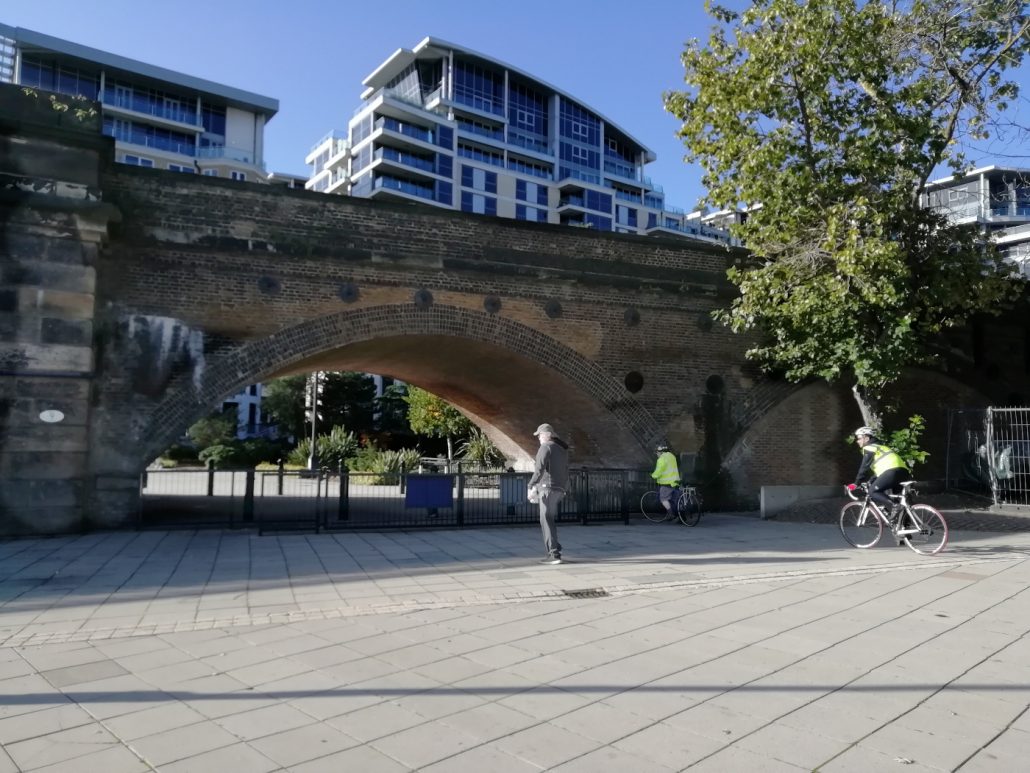 We did this ride in April last year so followed the same route via quiet Stockwell roads down to Battersea Park crossing the river at Albert Bridge. On through Chelsea Harbour – where the barrier was lifted for us to access the Thames Path by some unseen hand – then along relatively new river-front developments and a nicely landscaped public park at Imperial Wharf and on to Bishops Park for our coffee stop. Bruce led a small group to explore Fulham Palace on foot. Due to the Palace being set up for a huge, lavish, wedding the route to the garden was somewhat convoluted and one person became separated from the rest. Back at the Café we waited for her to reappear as we were a long way from home. With our departure time slightly delayed, the main group set off on the return journey first with Bruce and the missing person and friends leaving shortly later to catch us up. By some extraordinary numerical alignment / time-warp magic (or just cycling 'like the clappers'), Bruce's group – thinking they were chasing us – managed to get so far ahead into Wandsworth Park that we would never had caught up had we not phoned them and arranged to meet up at the bridge over the River Wandle. Thank goodness for mobile phones!
A quick debrief revealed that while the main group crossed Putney Bridge safely via the pedestrian tunnel, the stragglers went immediately to the bridge and launched themselves straight into the traffic thus gaining their head start. Once reunited, we followed the Thames Path back to Battersea where we passed The Hurlingham party boat in full, noisy swing well before 12 noon. Revellers were huddled on the outer decks swathed in cagoules and anoraks under what by then were cool, cloudy skies. On to Vauxhall where Bruce and others peeled off. We then picked up CS5 to Kennington and arrived back at Chumleigh Gardens café with a couple of minutes to spare.
Distance cycled was 18 miles (just under 30 Km); the group kept together, managing junctions and crossings well throughout and making excellent time. Gorgeous autumn colours in the parks. Thanks to David as back marker. Thanks and congratulations to Bruce for winning LCCs' 'Best rides and best ride leader' award – we've known it all along!
Report by Jane Champion, Ride Leader. Route at https://gb.mapometer.com/cycling/route_4698722.html
Gallery of photos below by Alex.
Battersea Park

Albert Bridge

Thames Path at Imperial Wharf

Coffee Stop, Bishops Park

Coffee Stop. Jane organising

Gatecrashing wedding preparations, Fulham Palace

All Saints Fulham, Putney Bridge

Chelsea Bridge

Battersea Power Station redevelopment