October 13, 2018 @ 1:00 pm

-

3:00 pm
Event Navigation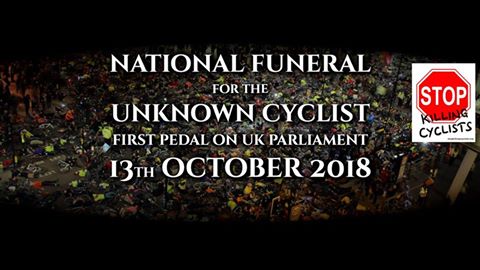 This is a
 national cycling and walking protest & die-in against the government & Parliament before the autumn budget. I
t's organised by Stop Killing Cyclists, who base their approach on the very successful Stop the Child Murders die-ins in Holland, during the early 70s, which were the catalyst for the transformation of Holland into 
the most bike-friendly country in the world. If you've ever ridden a bike in The Netherlands, you'll know how far we have to go..
The protest is to condemn all existing and previous governments from all the major parties for their failure to take comprehensive action on safer cycling. It calls for £3 billion a year to be invested in a national protected cycling network and no more tax cuts for fuel. These cuts are damaging our children's lungs for life and shortening lives.
We have some of the lowest levels of cycling investment in Europe and the highest levels of childhood obesity We need urgent action to tackle these problems and investment in cycling is one of the best.
There's a feeder ride to the protest which will pass by Crol coffee shop at the Dunton Road/Lynton Road lights on QW1. Join Jane Dent for a coffee and then join the ride at 11.25am to Webber St
and pick up more people at the corner of CS6 Blackfriars Rd

 at 

11.40am. Or join the protest at midday in Lincoln's Inn Fields. 
At 1pm the procession starts and from 
2-3pm there
'
s a rally and die-in at the Treasury, Parliament Square.