September 12 @ 10:00 am

-

12:00 pm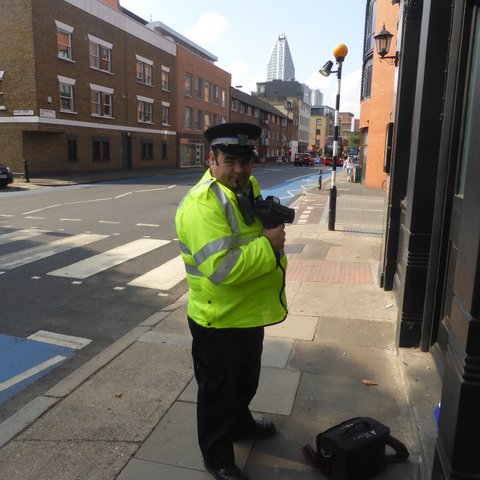 Southwark Cyclist Werner will be tracking the speeders on Long Lane in SE1. He holds the speedgun and PCSO Kevin Phillips (see pic) writes down the car numbers, colours and makes. Kevin sends the details, by now including names and addresses, to TfL. At this stage it's TfL who send out deploring letters to the speeding drivers pointing out the error of the ways, and that the next deploring post will come from the Met. Most pedestrians (and all cyclists) are supportive. Drivers not so much.
The idea is that the volunteer shows that the community cares about speed and the policeman protects the volunteer from abuse. To a surprising extent the abuse switches to the man in police uniform. Van drivers in particular seem convinced that the format is illegal and shout threats to complain. It isn't and they don't.
All in all, it's quite good fun and an interesting take on the war on the motorist. You can join in. Email kevin.j.phillips@met.police.uk. He will be delighted to hear from you and will investigate locations you suggest. There are weekend and evening sessions to fit any schedule. Enjoy.