April 26, 2017 @ 7:45 am

-

8:30 am
Event Navigation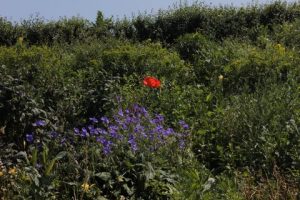 Smell the flowers on your way to work. Join the Bike Train. All right you have to put the effort in but hey, your bike is reliable, always turns up and you have a whole saddle to yourself.
Come with us and learn off-road and segregated routes to Kings Cross via Blackfriars. We bike-buddy riders to their final destination. Escorted all the way and totally free.
The Bike Train is at a new earlier time due to popular demand to get out of bed earlier. That means 7.45am from Nunhead station, 7.55am from Peckham Rye Station and 7.55am from Denmark Hill Station. The Peckham Rye and Denmark Hill lines join in Burgess Park which is why it's OK that they start at the same time.
The starting point in Peckham is the bike stands behind McDonalds and at Denmark Hill from outside the cafe in Windsor Walk. Camberwell Grove and Windsor Walk have both been closed since we started so this route keeps getting better.
Our route takes us through two parks, up a traffic calmed back street, onto the on-pavement cycling lanes on the New Kent Road, around the Elephant and Castle by-pass and onto the still lovely but no longer so new segregation up St George's Way and Blackfriars Road. All legal and all as safe as your mother would make it.
We get to Blackfriars at 8.30am and then a group goes north to Kings Cross and anyone who wants can be buddied wherever they want. Return rides arranged on request. For further details or to book your place text 07842 640 207 (me). Or just turn up.