November 16, 2016 @ 7:45 am

-

8:30 am
Event Navigation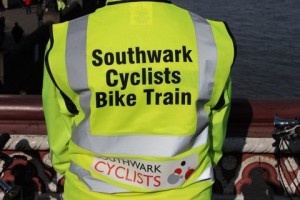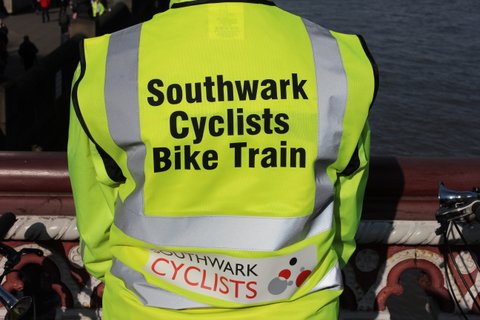 The Bike Train is now operating its winter timetable. Following the example of Southern Trains we have axed three quarters of our services but the charges remain the same. (It's free).
A Bike Train is a led-ride and this one is a led-ride to work for those fed up with being at the mercy of the train operators, who want to take their commute into their own hands (or feet) (or something). Cycling makes you happy, keeps you healthy and costs nothing. The ride is free.
We leave Nunhead Station at 7.45am, Denmark Hill and Peckham Rye stations at 7.55am. At Denmark Hill we leave from the cafe in Windsor Walk led by Liz Eden (07814 515 715). The two rides meet in Burgess Park and arrive at Blackfriars at 8.30am. The starting point at Peckham Rye is the bike stands behind McDonalds.
From Blackfriars riders are taken on individually (if they want) and destinations so far include Faringdon, Kings Cross, Westminster, Mayfair and Tower Hill. Return rides arranged on request.
Our route takes in two parks, a traffic-calmed backstreet, the cycling-on-the-pavement lanes on the New Kent Road, the Elephant and Castle by-pass and then the new TfL segregation. It's very quiet and enjoyable, mostly off-road (through parks) and then a backstreet. After that we are on segregation which is where there is a part of the road for bikes only, protected by about 2m of pavement. We never share the road with a bus or an HGV.
The map is here: https://www.google.com/maps/d/u/0/viewer?mid=1Pq8aj3Ylf1S9eg44QbGvAD4qSbM
Entirely free and all welcome. To join in Denmark Hill text Liz Eden on 07814 515 715 or for Nunhead and Peckham text me on 07842 640 207 or don't do any of that and just turn up.