No Comments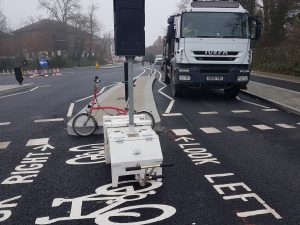 The Crystal Palace new cycle-friendly roundabouts are fully open now. There's a consultation on what users think of it but it doesn't make much sense. If/when it gets amended we'll let you know.
Various worrying features include a cycle route around the Fountain Drive roundabout which is not as cycle-friendly as it might be. That protective raised kerb is wide enough for a Brompton (see above) but not maybe wide enough for this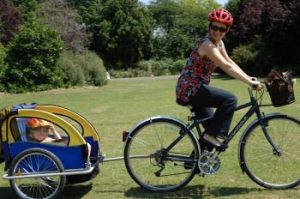 And if you take a look at the first picture again with special attention to the lorry, you realise that cyclists using the crossing might be right in its blind spot most of the time. A picture of a lorry blind spot helpfully provided by the boys in yellow looks like this: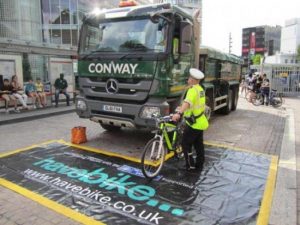 The London Cycle Design Standards say this: "Care is needed when designing such an arrangement to avoid encouraging cyclists, particularly users of longer or wider cycles, to wait in locations where they are vulnerable….". Well they said it not us. So if you are a user of a longer or wider cycle such as a Christiania bike, or a bike trailer with toddlers in it or a Tagalong (trailer bikes or third wheels). Or a cargo bike (various styles), be very careful on this crossing.
We are making a list of snags at this junction because that's the sort of helpful people we are and Francis Bernstein is interested in hearing of this problem at any new infrastructure developments. Alert him on southwark@lcc.org.uk and he will help with the consultation.