No Comments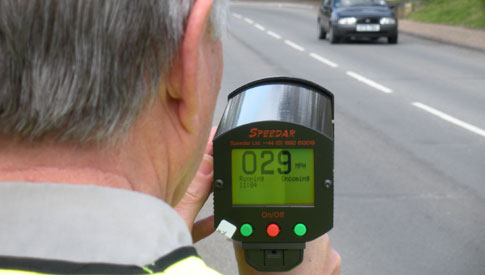 Surprisingly satisfying. Though this is not the sort of number you can expect to see on the screen. You've got to wear hi-vis (we don't want to catch those motorists speeding when they think no one is watching). You have to be accompanied by a policeman in full uniform (so that even half-blind drivers realise something might be going on). And first offenders only get a "tut tut" letter. But even so, it's surprisingly satisfying.
The police aren't allowed to do it by themselves. Community Speedwatch means at least one member of the community must be be present. The Met's representative in Southwark is PCSO Kevin Phillips. He sets the date and time, then brings the speed gun. He also does all the boring admin work afterwards. The Community does the fun bit and points the gun.
The actual place is also suggested by the community, so, if you know a particular bit of road haunted by particularly fast drivers, then let Kevin know. He will check it out to see if it is suitable for a Speed Watch session. Roads that already have a speed camera or humps are not suitable. Once on the list they will get several visits at different times — the "tut tut" letters turn into fines if you get caught three times (this really is war on the motorist).
Learning how to use the speed gun is easy. Focussing it (getting a fix) on oncoming vehicles from a distance of 150 metres is not-so-much.  You need a steady hand. Then you need to be able to spot the fast ones before they spot you, harder than you might think at that distance. Then, luck.  The luck is needed to hit the vehicle in the first place and then not have the beam broken by another vehicle, a pedestrian or, most commonly, a cyclist.
Once you have a speed reading and it's too high (I can hardly believe it), it is essential to get the registration number and, if possible, the make and colour of the vehicle.   TfL send the letter to the driver. If the same vehicle is caught again, another letter goes out. A third means the police get told so they can issue a ticket.
The most satisfying prize is a speeding motorcycle since a) it is often going seriously fast and b) the number is only on the back.   As a grizzled veteran of 2 Speed Watch sessions,  a total of 60 vehicles over two hours is a good haul.  Extra satisfaction points for getting 2 motorcycles.
Public entertainment is considerable. The grateful, the curious, the anxious and the eccentric all stop by.  Nobody even remotely hostile, after all one of you is a policeman in full uniform. On these sunny days it is a happy way to spend a couple of hours.  If you want to volunteer to accompany Kevin,  one can do the job, two would probably be better.