No Comments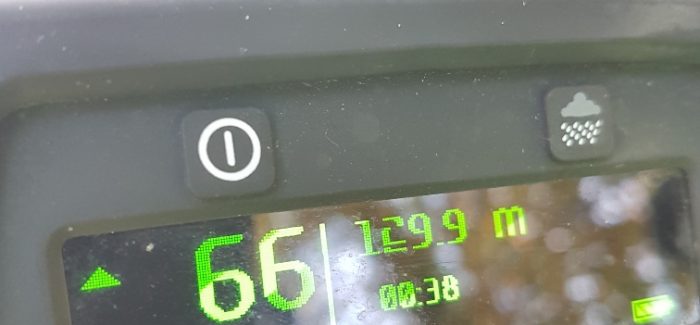 A cyclist was holding this speed gun. He showed the police the problem and now the Met is joining in. In between catching speeding drivers the Community Speedwatch volunteers have been showing the Met how much speeding goes on and now the police have set up a dedicated unit with their own more sophisticated speedguns. In a spell on the Old Kent Road near the flyover they handed out six tickets. Using the evidence collected by the Speedwatch volunteers they are working out the speeding hotspots and paying them a visit.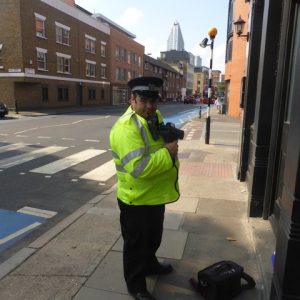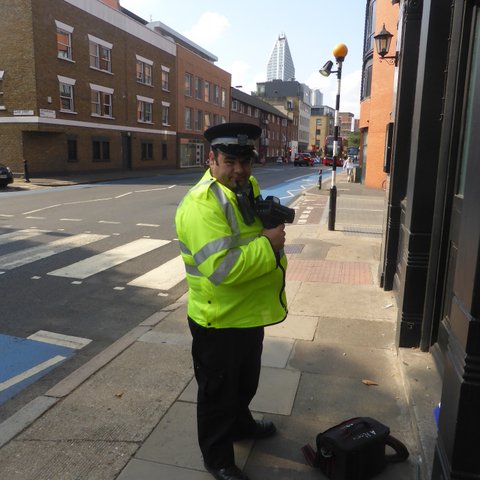 This is PCSO Kevin Phillips who, with his mate Aran (sorry I don't know Aran's full name), has been running the Community Speedwatch in Southwark. The higher-ups want to build on his success and Kevin will be telling them where he and Aran have found lots of speeding — Village Way, Lordship Lane, Croxted Road, Dog Kennel Hill — I could go on. If you want to add any suggestions or join in then contact Kevin on kevin.j.phillips@met.police.uk. He's very nice.
Why does this matter? Well because although Community Speedwatch is fun it's not actually very frightening. Anxious drivers approach Kevin fearful of receiving a speeding ticket but the sad thing is that all he can arrange for them to receive is a "tut tut" letter from TfL. And the letters only turn into fines if the driver gets caught three times (this really is war on the motorist).
It's hard not to believe that the politicians who set up Community Speedwatch wanted to placate the community but not upset drivers (by stopping them speeding). So if the Met are going to take up the speed gun themselves that's really good news. They don't mind upsetting drivers.
Community Speedwatch will carry on. Kevin is the Met's Community Speedwatch representative in Southwark. He's part of Road Transport Policing Command. He sets the dates and times and brings the speed gun. He also does all the boring admin work afterwards. The Community does the fun bit and points the gun. The actual place is also suggested by the community, so, if you know a particular bit of road ravaged by particularly fast drivers, then let Kevin know. He will check it out. Roads that already have a speed camera or humps are not suitable.
To join in contact PCSO Kevin Phillips on kevin.j.phillips@met.pnn.police.uk. He's very friendly and will be pleased to hear from you. Learning how to use the speed gun is easy. Focussing it (getting a fix) on oncoming vehicles from a distance of 150 metres is not-so-much.  Once you have a speed reading and it's too high (I can hardly believe it), it is essential to get the registration number and, if possible, the make and colour of the vehicle.  Public entertainment is considerable. The grateful, the curious, the anxious and the eccentric all stop by.  Nobody even remotely hostile, after all one of you is a policeman in full uniform. And now, more policemen in full uniform are joining in.