No Comments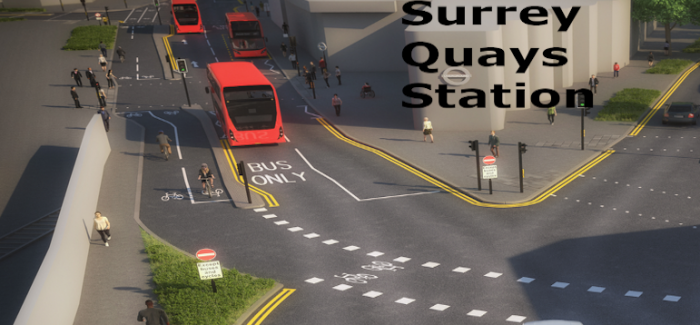 We wanted to help our members and provide some guidance for those filling out the consultation.
First the consultation is here : https://consultations.southwark.gov.uk/planning-and-regeneration/lower-road/consultation/
Its broken in to multiple sections and we have the heading of the section and our suggested response. This is based on our initial assessment of the route. We want to be very clear we strongly support the proposed changes and our suggestions/requests are all minor things.
Please ensure you show strong support in your response. Think if this as "Yes, and" instead of "no but". For example say "Yes we want this wonderful protected lane section and we want you to ensure that there is a link to street X". Do not say "No but if you add route to street X I would support this". If you do the former it will be taken as support for the proposal. We will be able, once this is built, to fight to get the link if they do not add it. If you do the no but you may be counted as opposing the route and this will mean it will be less likely to be built.
Your experience of using the street
This is about how you use the streets in question and what is your priority. For question 3 "With regards to travel on Lower Road and the surrounding area, what is most important to you?" We suggest you respond with safety or select other and put in "protected cycleways to make road safer"
Have your say on the proposals
Strongly Support.
About you
You need to fill this in all about you.
Section 1. Lower Road (between Culling Road and Ann Moss Way)
Strongly support. We suggest asking for a mini zebra across the cycle track that will link up with the zebra crossing across the general carriageway.
Section 2. Lower Road (between Surrey Quays Road and Gomm Road)
Strongly support and ask the pavement level cycle track on east side of Lower road is retained until the site is redeveloped as this provides access to the ramp to access the shopping centre. Also space needs to be provided on the west side for those using the toucan crossing.
Section 3. Lower Road (between Hothfield Place and China Hall Mews)
Strongly support and we suggest asking for gaps in protected cycleway kerb line of cycleway to provide access for those who need to access Hither Grove and China Hall Mews
Section 4. Lower Road Hawkstone Road Rotherhithe Old Road
Strongly support.
Section 5. Lower Road Redriff Road
Strongly support
Section 6. Lower Road (between Redriff Road and Plough Way)
Strongly support and ask they consider where the mini zebras are located. Such that trees or other street furniture does not obstruct the sight line of people on foot or cycling when using the crossings. We also think this is a great opportunity in the public realm scheme to add further trees and more cycle parking. We also suggest people ask for a gap in the cycletrack kerb line to provide access to Cope Street
Section 7. Lower Road Plough Way
Strongly support
Section 8. Lower Road (between Chilton Grove and Bestwood Street)
Strongly support and suggest that the new pavement on Croft Street to be moved West and a gap provided for the cycle contraflow. This will mean that those using contraflow will be protected from motorists using this turn.
Section 9. Bestwood
Strongly support and suggest that as many of the raised crossings as possible me made into Zebra crossings. As this would provide a much better experience for those on foot.
Section 10. Bush Road
Strongly support we also suggest you could ask for shared pavement section or cycle bypass to allow people cycling to make the left turn into Bush Road.
Section 11. Rotherhithe New Road
Strongly support and ask they access to NCN 425/Oldfield Grove via shared path section or cycle tracks at pavement level through the new landscaping area. As has been done with Gambia Street. This is a key local link and its essential its retained.
Section 12. Cope Street
Strongly support and ask they retain the contraflow. This will allow those living to the west of the scheme have easy access into the protected cycle track.
Section 13. Rotherhithe Old Road
Strongly support and ask if its possible to provide a jug handle and Toucan crossing from Rotherhithe Road north of Cope Street and shared path section to allow easy link into Cope Street.