Streets for Distancing: Our campaign asking the council to prioritise active travel in response to Covid-19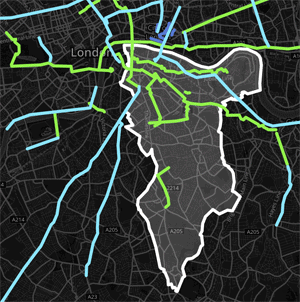 We need to Put Southwark on the Map. Most of the borough is not covered by a cycle network.
We have identified priority measures Southwark Council needs to implement to enable people to travel in and through the borough while physical distancing is necessary. With reduced public transport capacity there will be a much greater reliance on active travel. By allowing most people to walk and cycle easily and safely, space on public transportation will be left for those that need it.
This takes into account current Council projects, public transport corridors, ease of implementation and TfL's Temporary Strategic Cycling Analysis, which will ensure support and funding from TfL. We have broken them down by streets controlled by Southwark Council and those controlled by TfL.
This is just the first step of what is needed, and only includes a few low traffic neighbourhoods that have already been identified. We want to see low traffic neighbourhoods and school streets across the entire borough.
We have added these to Southwark Council's Commonplace map, where you can support the measures you think will have the greatest impact on active travel by clicking the links below. You can also add what you'd like to see changed in the borough or agree with the suggestions others have made.
We also have an interactive map with these measures and more. If you think we've missed something on the map, contact us at infrastruction@southwarkcyclists.org.uk
Southwark Council controlled streets
TfL controlled roads
These are roads TfL controls and we want the council to ask TfL to implement these measures on them.
Click the blue links and give each a thumbs up, bottom right.
If we do not show support we wont get the needed changes.
Support this now!